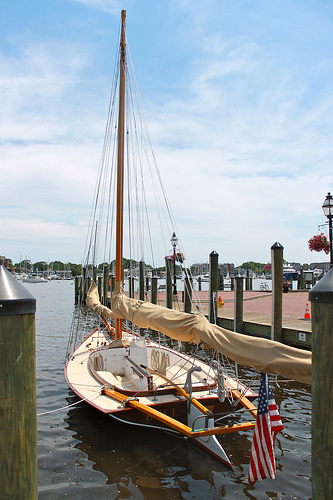 Annapolis is ripe with entertainment, as always. Below, you'll find music, history, art, and water events to please everyone. Even if these events don't catch your eye, there are endless happy hour specials, dinner specials, and things to see around the city. Pick somewhere new and try it this week!
Annapolis Entertainment
The roller skating musical by Annapolis Summer Garden Theatre, Xanadu, still shows its hilarious plot and upbeat music this week. This musical involves a Greek muse who goes to the West Coast to inspire Sonny, an uninspired artist, to craft the world's first roller disco. The musical has won several awards and for good reason–it's fun! Order your tickets online http://www.summergarden.com/season.html. The show runs through September 2.
Rumple Who? is still on stage this week. Kids will love this goofy musical about a young boy, especially since all the actors dress in bright clothes and crazy hats. Performances are scheduled for Sundays at 11 a.m. In addition to Rumple Who?, Bay Theatre Company presents A Walk in My Shoes, starring Brett Warner Hurt. This evening cabaret features singing, dancing and all the rest. The show is only one night–August 17–at 8 p.m. Purchase tickets for these events here: http://baytheatre.org/.
Ram's Head pleases again this week with musicians of various genres. To start things off, Kasey Chambers performs her take on rock/folk music at 8 p.m. on Monday. Chambers sings alongside Jill Andrews for $35. On Tuesday, John Hiatt & The Combo treat the crowd to Hiatt's songwriting talent that covers well over ten albums. See this group for $79.50 at 8 p.m. Bob Schneider performs an eclectic mix of funk, rock, and folk on Wednesday. Schneider begins at 8 p.m. and costs $23.50 to see. On Thursday, Chatham County Line performs with 3 Penny Acre at 8 p.m. This bluegrass group only costs $15 to see. Charlie Mars, a pop/folk-style musician, sings along with Amy Cook on Friday at 8 p.m. See the duo for $25. Saturday, Soul Asylum brings alternative rock to Ram's Head at 8:30 p.m. The show costs $39.50. Paul Thorn Band rounds off the week with roots rock music. Thorn performs at 8 p.m. for $22.50. Purchase tickets on the following link: http://tickets.ramsheadonstage.com/.
49 West jams with jazz this week. On Tuesday, 49 West veterans, Unified Jazz Ensemble treat the audience to smooth jazz, upbeat jazz, and everything in between. The cover charge is $6. The show begins at 8:30 p.m. Wednesday, Starr's Jazz Jam returns with Joe Byrd from 7 to 10 p.m. The fee is $10. Thursday, Rob Levit Group performs from 8:30 to midnight. See Levit for $6. Friday, Birds & Arrows performs rock/soul/folk music at 8 p.m. for $10. Saturday, John Jensen plays the blues at 5 p.m. There's no charge for this event. Saturday evening brings American roots music with Dean Rosenthal & The 4 Piece Band at 8 p.m. The cover charge is $10. Sunday offers three marvelous acts to see: Jenn & Larry's coffeehouse jams at 4, Gail Martin & Unified Jazz Ensemble at 7, and Jonathan Stone's guitar sounds at 10 a.m. The second event on Sunday is on the only one that costs–$20. For more information, head to http://49westcoffeehouse.com/calendar/index.php.
Naturally, Annapolis entertainment wouldn't be entertaining without a little aquatic action. Watermark Cruises offers tours in Annapolis every day–cruises that circle the Bay, area rivers, lighthouses and more. Some cruises are forty minutes, others are 90 minutes, and the longest tours take all day. To book a tour, go to http://cruisesonthebay.com/.
Schooner Woodwind also supplies those who visit and reside in Annapolis the luxury of cruising on the open water. This Tuesday and Sunday, Schooner Woodwind features specialty tours. Tuesday's cruise involves two breweries and healthy competition. Two ships race the same course while enjoying beer. Combine beer and boating this Tuesday from 6:30 to 8:30 p.m. The cost for this Tuesday cruise is $39 for adults and $37 for seniors. On Sunday, enjoy the same beer–Heavy Seas–but with the added benefit of dinner aboard the ship. Dine, booze, and sail from 6:30 to 9 p.m. The cost is $99 for adults. Purchase tickets and view the dinner menu on the following site: http://www.schoonerwoodwind.com/specialty-sailing-cruises-chesapeake-bay/schooner-woodwind-sailing-schedule/.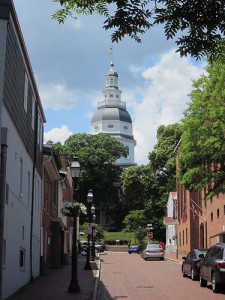 Annapolis Art
Truly exquisite art requires hours of contemplation and observation. Annapolis Collection Gallery supplies art enthusiasts and newcomers alike the opportunity to view artwork by Moe Hanson from 2 to 7 p.m. this Thursday. Go to http://www.annapoliscollection.com/ to learn more.
Annapolis History
Settle into a cruise around the Chesapeake Bay while learning about courtship from decades, even centuries, ago. The cruise with Schooner Woodwind departs from Annapolis Marriott Waterfront Hotel at 6:30 and returns at 8:30 p.m. Tickets cost $39 for adults, $37 for seniors, and $25 for kids. Go to http://www.annapolis.org/index.asp?pageid=133 to acquire tickets.
Annapolis Boating & Fishing Annapolis History Annapolis Things to Do Articles West Street Annapolis, Annapolis History, Annapolis Things to Do, Annapolis Waterfront, Galleries, Sailing, West Street