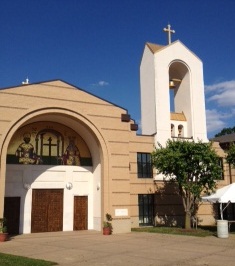 It's an established fact the Greeks know how to cook, bake, and have a good time. They also are skilled party hosts, as those who attended the Greek Festival in Annapolis discovered in the early part of June. Ss. Constantine and Helen Greek Orthodox Church on Riva Road housed the event and was filled to the brim with baklava, souvlaki, lamb shanks, live music, vendors, and olive oil. Truly, it was a cultural experience that cost much less than a trip to Greece. If you missed it or simply want to reminisce in the excitement all over again, read on.
Most of the action happened inside the church and through the side entrance. Even still, upon walking to the festival, attendees were greeted by kind ladies from the church. They inquired if attendees were new to the festival and if so, they explained what to do and where to start. One of the women said there were over 100,000 people at the festival last year. In fact, due to the immense success, the church extended the festival one extra day this year.
Aside from the ladies outside, there were also several booths set up with Greek yummies. There was olive and pita bread for sale, all freshly made. It required all human strength to resist cravings to consume the whole loaf at once.
Progressing inside the church literally opened up all of Greece. There were more greeters, Greek flags, Greek foods, entertainment, and even the movie My Big Fat Greek Wedding playing. Booths overflowing with shimmery jewelry, glass sculptures, and other paraphernalia lined up in the hallway to two massive reception rooms. One of these rooms held a Greek buffet with lamb, marinated olives, dishes peppered with feta, seasoned chicken, and Greek salads. There was even a huge full service bar. The other room contained a massive space for dining and a stage for live music later. Opa!
Out on the pavilion, more of Greece exposed itself. To the right was more seating and lines for the gyros and pitas made in front of customers. More food vendors sat on the left with exotic treats like loukoumades, a dish of fried dough dipped in honey. There were also iced drinks available and of course, baklava, the traditional Greek dessert comprised of layers of flaky dough, walnuts, and sticky honey. The far left was reserved for kids. Stations of henna tattoos, face painting, a bouncy house, and crystal ball reading were set up.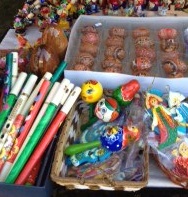 Straight ahead out of the church sat yet another seating area and tent full of vendors. Inside the tent sat proud business owners and others selling products. There were painted eggs, olive oil imported from a family-owned farm in Sparta, clothes, jewelry, and artwork. I purchased a bottle of olive oil from the Spartan farm and the price was comparable to other olive oils: 12 ounces for $13. It's a beautiful shade of deep yellow and tastes delicious dipped in bread and dried herbs.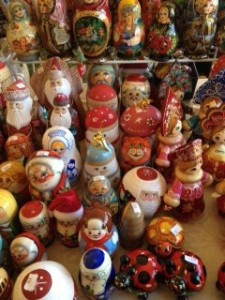 Naturally, food had to be consumed at the festival. I ordered fried calamari that were airy and crispy. I also had a veggie pita stuffed with feta, cucumber sauce, lettuce, tomatoes, and cucumbers. A friend bought a gyro with beef and lamb stuffed inside. Both entrees came on a pillowy, doughy pita roll. The bread alone was worth the price: $8 for one.
Pitas and fried food were not the only offerings there. There were soups with chicken, lemon and rice, Greek salads, flaky baked fish, vanilla sundaes topped with baklava, eggplant casseroles, rice and dill wrapped in grape leaves, braided sweet bread, etc. Vegetarians and meat lovers both found comfort and satisfaction in their food consumed at the Greek Festival.
Missed the Greek Festival? Go to www.annapolisgreekfestival.org to learn more about next year's event. Mark your calendar for next year's Greek Festival, so you can munch on baked Greek desserts and join in the festivities. Until then, try out a few Greek recipes. As the Greeks say, "Kalee orexee!" or "Bon Appetit!"
Annapolis Activities & Events Annapolis Family & Children Annapolis Shopping Annapolis Things to Do Articles Activities, Annapolis, Annapolis Things to Do, Events