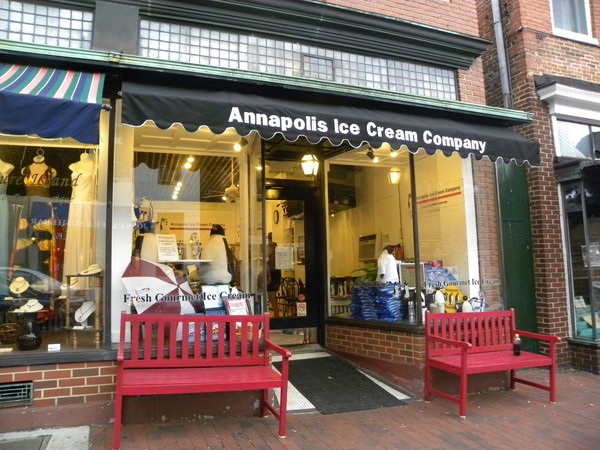 One of the owners of Annapolis Ice Cream Company starts by telling me "Ice cream has been my favorite food since I was a child." Though Nancy Giera's words were bold and universal, I was fixated on the excited twinkle behind her glasses. It was the quintessential childhood look of love, but for Giera, the delight in ice cream never left. And what does one do with such an encompassing passion for ice cream? Open an ice cream store! This is indeed the path Giera and her husband Walter chose, and Annapolis, you can thank Giera for refusing to abandon her childhood favorite and establishing the mecca of natural ice cream right downtown. Everything you need to know about Annapolis Ice Cream, Giera, and the delicious flavors can be found below. Consequently, you'll crave a healthy scoop of creamy goodness after reading this, but at least I warned you.
I checked in with Giera on the 8th anniversary of the store opening, and there was quite a bustle about the small store. The 1,000 square feet store wasn't just busy due to its anniversary; people visit the store thanks to the Gieras real, natural, and some organic ice cream. Kids, teens, and adults all hungrily waited in line for a sugar fix. Little ones fidgeted, twenty-somethings constantly checked their phones for news that didn't exist, and parents planned out the day in their minds. Once it was someone's turn, he or she was presented with an upwards of twenty flavors. Set in large buckets with correlating labels, the ice cream stared out at the customers in hopes to be chosen. Often times, two or three flavors were picked for one person. Peeking into the back of the store showed the narrow area where Giera and her husband make fresh ice cream nearly every night. Above the refrigerated rows of ice cream sat a bunch of plush penguins, Annapolis Ice Cream Company's mascot, for lack of a better term. There were two guys working the counter that day who greeted customers with a "Hi, what's up? What can I get you?" They worked quickly to file people through the line. After a couple hefty bites, those same kids, twenty-somethings, and adults who seemed bored in line now each displayed a content countenance. All was well in Annapolis Ice Cream Company, and the same went for me after sucking down two monstrous scoops of coffee ice cream.
Since we're on the subject, let's discuss why Annapolis Ice Cream Company's ice cream is a creamy experience like no other. Giera sums it up when she says "We just wanted to show Annapolis what real homemade ice cream tastes like." The ice cream champ only offers ice cream made from natural ingredients. The marvelous flavors are creations of Walter and Nancy, too, which means the passion for yumminess translates from the duo to their products. In addition, the Gieras don't use fake flavorings, preservatives, and whatever other funkiness factories add into their ice cream. Even the more complex flavors, like the apple pie flavor, maintain the same quality as the more traditional flavors like peanut butter chocolate and rocky road.
"We take a whole pie and put that into the ice cream, so you get the crust and everything else," Giera proudly states, her hands resisting the temptation to scoop some ice cream for herself. "The coconut flavor has real coconut flakes too," she adds, "And the fruit flavor includes a big bowl of fruit." For the ever popular coffee flavor of ice cream, the Gieras brew coffee and incorporate the liquid into the ice cream. This flavor is jolt of sugar and caffeine that's perfect to eat right before a corporate meeting. Truly, every flavor is treated with equality and care, and the outcome is so much bigger than a bowl of ice cream. Anyone who's been there can attest.
Aside from the more involved flavors, like blackberry cobbler, brownie batter, and gingerbread cookie, Annapolis Ice Cream Company features more flavors, thirty-six in all. Yes, it's a lot of flavors, but taste testing is always allowed for young and old. Not all the flavors are out at once, but with so many enticing flavors like s'mores, lemon, mint oreo, and chocolate banana, who wouldn't be satisfied? Another thing important to note is the scoop size, which is shockingly large yet perfect at the same time. Melissa Rainford from Mary and Blanche!, another very worthy business downtown, comments that her kids love the ice cream there. "I always ask Annapolis Ice Cream to split one scoop between my two kids and they do it but it's still so much ice cream!" she exclaims. "Of course," Rainford starts again with a chuckle, "My kids love it." Rainford isn't exaggerating either; the gargantuan size scoop is enough to put any sugar addict child to ease.
So how do these dairy magicians do it? "Making the ice cream is a lot like painting," Giera starts, "The prep work takes the most time." The creamy delight is only in the machine about six to eight minutes. Certain flavors do take more time since the company has to mix by hand–an important step and a token of their dedication to creating something authentic and so good. It seems to me that the Gieras and Annapolis Ice Cream Company follow an often forgotten concept: all good things are worth working and waiting for.
What's the payoff to this immense care to selling real ice cream? "People come in and tell us they haven't had ice cream like this before!" Giera says with a laugh. "And we tell them it's because this is real ice cream," she remarks, emphasizing "real." Residents and visitors who frequent the store can even show love by leaving a mark there. Gaze up at the walls near the register and to the right and you'll see tons of decorated spoons. "That's not even all the spoons," Giera says, "We have a collection of about 40,000 spoons in bags." The funky, artsy spoons on the walls only total about 1,000. The next time you stop in, color a spoon and leave a mark! In terms of business payoff, Annapolis Ice Cream Company spreads their love to area restaurants like Wild Orchid and Metropolitan. Additionally, the company caters to weddings, parties, and other festivities all the way to Washington D.C.
Once the locals showed love to Annapolis Ice Cream Company, esteemed awards followed suit. Since 2005, the downtown store was voted best ice cream in Annapolis. The store is rated at the number one spot on Trip Advisor and Yelp! too. Lastly, Annapolis Ice Cream Company won the Reader's Choice Award in 2011.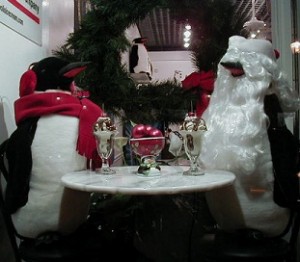 If you're like me, your mouth is salivating and your stomach craves sweet creaminess. When this feeling hits, the only sensible action is to hop in your car and order a massive scoop of ice cream. Or, if you're lucky enough to live downtown, walk to the store and let the cold ice cream be your respite from the heat. Annapolis Ice Cream Company has seating in and out of their store at 196 Main Street downtown. Regardless of how you get there, you'll know you have a thoughtful scoop (or two) of ice cream that will surely make all the children you pass do a double-take. Indulge this summer in something authentic and local. In the winter, Annapolis Ice Cream Company stays open to offer their hot chocolate made from Belgium chocolate (see above). Really, anytime of the year is good for a trip to Annapolis Ice Cream Company. Visit their website, www.annapolisicecream.com for flavors and news, but make sure you visit in person too.
Annapolis Family & Children Articles Downtown Annapolis Annapolis, Dining, Downtown