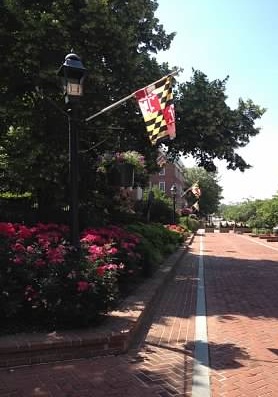 Annapolis sets up its inhabitants and visitors with great fun this week–namely, the live performances. There are free concerts at two locations, famous acts at Ram's Head, local singers at 49 West Coffeehouse, and musicals for kids and adults alike. Not to mention the artsy event with a renowned artist. Jam your week with events and have a fantastic summer!
Annapolis Entertainment
It's rare that something can be nostalgic and appropriate for the present. Annapolis Summer Garden Theatre found a way to achieve this balance with their hysterical, somewhat lewd musical, Avenue Q. The musical runs through July 29. Purchase your tickets online: http://www.summergarden.com/season.html.
Dames at Sea, Infinity Theatre's sassy musical about a naive girl who moves to the city and falls for a sailor, plays on Thursdays, Fridays, Saturdays, and Sundays. Thursday performances are 2 and 7 p.m.; Friday and Saturday shows begin at 8 p.m.; and Sunday shows start at 2 p.m. See the nautical, songful performance through August.
Speaking of Infinity Theatre, the New York cast and crew also offer performances for kids! The Tall Tales of Enoch catalogs the desire of a little boy to impress his class by stretching the truth…by a lot! This play is best for kids between 3 to 10. See the lies grow bigger and bigger on Saturdays from now until August 4 at 11 a.m. For both Infinity Theatre shows, head to http://infinitytheatrecompany.com/productions to grab tickets and learn more.
Bay Theatre Company's hilarious musical for kids, Rumple Who?, is still on stage through mid-August. It's a performance full of colors, vivid personalities, and is great fun for children. Shows for this musical are at 11 a.m. and 2 p.m. on Sundays. Head to http://baytheatre.org/ for additional information and to order tickets.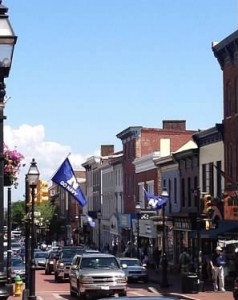 49 West Coffeehouse covers the jazz genre brilliantly this week, thanks to talented musicians who perform there. On Monday, 12 Voices returns with the opportunity to taste test, if you will, the talents of 12 local singers from 7:30 to 11:30 p.m. The cover charge is appropriately $12. Tuesday brings a 49 West classic–Unified Jazz Ensemble at 8:30 p.m. The cover charge is $6. Wednesday, Starr's Jazz Jam is back with multiple instruments and big passion for music. The performance begins at 7 p.m. and costs $10. Thursday, Rob Levit, another 49 West classic, performs at 8:30 p.m. for $6. Friday, 49 West imports a new act: Mac Walter & Friends! Walter will play guitar music while his friends follow along. The cover charge is $10. Walter begins at 8 p.m. John Jensen plays the blues on Saturday at 5 p.m. for free! At 2 p.m. on that day, The Swing Brothers jazz it up for free. Sunday sees two acts: Jonathan Stone on the guitar at 10 a.m. for free and Jack Wilson & Dave Glaser at 7 p.m. for free. Want to know more? Go to www.49westcoffeehouse.com.
If you prefer a little nature with your jazz, head to Maryland Hall for a free concert this Wednesday. It's a laidback event, so bring your own dinner and blankets or chairs to sit on. Jeff Antoniuk & The Jazz Update perform this Wednesday at 6 p.m. on the lawn. The next free concert from Maryland Hall isn't until August 8, so scoop up this opportunity!
Yes, you can have another free concert! Annapolis Towne Centre at Parole offers free nightly concerts on Fridays. This week, Orchestra La Romana sends flares of Latin excitement and lively music into the audience. You can't miss the concert; it's right on Towne Centre Blvd. Bring a friend, a date, or your mom and shimmy to the sassy music at 7 p.m. this Friday!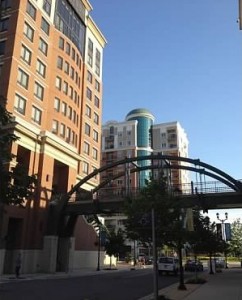 Ram's Head takes on a reggae vibe to kick off the week with The Original Wailers and Al Anderson. Enjoy the island music for $35 at 8 p.m. Moving back to the rock genre, Tuesday and Wednesday see Dave Mason, co-founder of Traffic, at 8 p.m both nights. The cost is $52 per night. The group formerly known as Tequila Sunrise, 7 Bridges, pays musical tribute to The Eagles this Thursday. Rock with the group at 8 p.m. for $23.50. Friday, country crooner Elizabeth Cook shows how Southern girls can rock the East Coast too! Cook sings at 8 p.m. for $15. Saturday, The Dunwells charm the crowd with Indie tunes at 8 p.m. The cover charge is $15. Sunday, Ram's Head brings you two fantastic options–Dave Matthews Tribute Band at 1 p.m. and Papa Grows Funk at 8 p.m. You can guess what the first group sounds like. Papa Grows Funk is bluesy/funk. Both shows cost $15. Go to http://tickets.ramsheadonstage.com/ to acquire tickets.
Combine dancers, wine, and a luscious vineyard and there's bound to be memory-making! This Thursday, Ballet of Maryland and Thanksgiving Farm Winery in Harwood team up for a "TOEst" from 5:30 to 7:30 p.m. Taste the wines, socialize with ballerinas, and enjoy shaking it up a bit! Thanksgiving Farm will also give tours of the vineyard. The cost is $40 per person for the wines and everything else. The admission goes to purchasing new shoes for dancers. Go to http://www.balletmaryland.org/NewsEvents/Calendar/tabid/669/ModuleID/1737/ItemID/395/mctl/EventDetails/Default.aspx to learn more, and check out http://www.thanksgivingfarm.com/ while you're at it–a gorgeous vineyard!
Annapolis Art
Another example of why it's so good to live near Annapolis pops up this week, and it's under the name, "After Hours with Roxie." This exclusive chance to meet renowned artist Roxie Munro occurs this Saturday from 8 to 9 p.m. Not familiar with Munro's work? Look all around Annapolis at the buildings, look at barns, even look at your house–Munro paints all these structures. Her love of architecture translates to her immaculate paintings. Chat with her, ooh and aah at her work, and enjoy a night out on the town this Saturday. Go to Gallery Row on West Street (it's near Annapolis Collection Gallery). Head to http://www.annapoliscollection.com/ to inquire further.
Annapolis Activities & Events Annapolis Family & Children Annapolis Things to Do Articles Downtown Annapolis West Street Activities, Annapolis, Annapolis Things to Do, Downtown, West Street