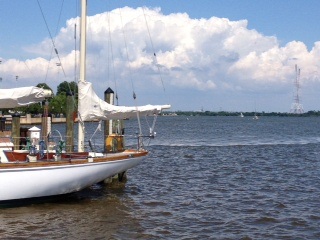 There is an enormous amount of fun scheduled this week in Annapolis. Whether you want to be outside, jamming on a beach to benefit the Bay, or want to socialize with artists in a local gallery, Annapolis hosts activities for you. Grab a long-lost friend and be entertained in the state's capitol.
Annapolis Green
It's summer and farmer's markets flourish all over town! There are several: Riva Road (turn at Truman Parkway), Severna Park (at Ritchie Highway and Jones Station Road) and Westfield Annapolis (in the Orange Parking Garage). The one on Riva Road already started, and is open Saturdays and Tuesdays from 7 to noon. The one at Westfield is on Sundays, and is open 10 until noon. Severna Park's market is on Saturdays from 8 to noon. Check http://www.aacounty.org to learn more. Support local, eat local, thrive local.
It's time for another Green Drinks! This one is on Tuesday, June 12 at 5:30 at Clock Tower Place and spreads out to Grapes Wine Bar, My Butcher, and other businesses. If you've never been to one of these eco-minded parties, this week is your chance! Go to http://www.annapolisgreen.com/ to discover more about Green Drinks and other green events happening around town. Admission is free.
Kids can also enjoy green efforts this week. At Quiet Waters Park in Annapolis, kids will learn how to make paper out of old newspapers. Call 410-222-1777 to find out what time.
Trees have more than an aesthetic appeal and a supply of oxygen for us; they have medicinal benefits too! Learn about remedies stemmed from trees and actively participate in making your own at the Tree Medicine class on Saturday. This class is held at the private residence of Herbal Educator Leigh Glenn in Arnold from 9 a.m. to noon. The cost is $55 with a $25 deposit. Call 410-757-4070 to reserve a spot!
Free and green, the Chesapeake Ecology Center Tour on garden care is an event for those who are interested in learning about rain gardens and conservation practices. The garden tour begins at 10 a.m. at 245 Clay Street in Annapolis. Go to the Annapolis Green link provided above to learn more.
Here's yet another event that combines the outdoors with entertainment: 7th Annual Bands in the Sand on Saturday. Essentially, this event sponsors the Chesapeake Bay Foundation and includes a night of live music, drinks, food, and the usual social fun on a beach setting. Bring your own chairs and towels. Bands in the Sand begins at 5 p.m. and goes to 10:30 p.m. at 6 Hendon Avenue. Tickets are $100. Call 410-268-8816 for additional information.
Annapolis Art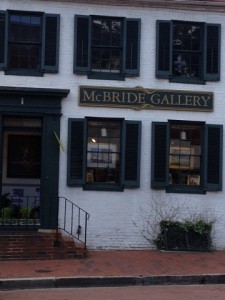 The summer seemingly brings even more art opportunities to Annapolis. Try out some of these galleries and learn to appreciate (if you don't already). Maryland Pastel Society Show is open at Quiet Waters Park and carries no fee except the one to gain entrance into the park ($6 per Maryland vehicle). Or, try Artists' Favorite Places, and exhibit done by artists to reminisce and promote the beauty of their favorite spots. This one takes place at McBride Gallery downtown. Go to www.marylandhall.org for these more on these above events. Many Faces of Watercolor is an exhibit at Benfield Gallery. See any of these exhibits through June, with the exception of Many Faces of Watercolor, which ends next Sunday.
Annapolis Entertainment
Annapolis Summer Garden Theatre's Anything Goes is still available for viewing pleasure until June 24. This hysterical, cheeky musical has won countless awards and certainly deserves some of your time this week! Go to http://www.summergarden.com/season.html to purchase tickets and inquire further.
Bay Theatre Company hosts encore performances this June 17 for Rumple Who? This goofy, laugh-out-loud musical is about Rumplestilskin. Its a good time for ages 3-12. The performances run on Sunday until August 19. All the shows are scheduled for 11 a.m. and 2 p.m. Purchase tickets on http://baytheatre.org.
The Colonial Players' Moonlight and Magnolia's runs through the end of this month. Haven't seen the play yet? It covers the pressures of time for the only person who hasn't read Gone With the Wind to create a play around the classic. Head to http://tickets.thecolonialplayers.org/ to purchase tickets and find out more.
Ram's Head hosts some quirky and fun musical acts this week. First up, Bootsy Collins brings the funk to the crowd at 8 p.m. on Monday for $85. On Tuesday, see Kinky Friedman who is known for his country satire. He plays at 8 p.m. for $30. On Thursday, Robert Cray Band doles out blues tunes at 8 p.m. for $67.50. On Friday, see B Street Band featuring Vini Mad Dog Lopez do a tribute to The Boss. The show begins at 8 p.m. and costs $29.50. Saturday brings rock back to Ram's Head with John Eddie Band and Scott Miller. The duo plays at 8:30 p.m. for $20. On Sunday, enjoy David Sanborn and Brian Culbertson's jazz music at two shows; one at 5 p.m. and the other at 8 p.m. The cost is $50. Interested and want tickets? Activate the following link: http://tickets.ramsheadonstage.com/.
49 West brings the perfect amount of jazz to its cozy coffeehouse downtown this week. On Tuesday, try Unified Jazz Ensemble for $6 from 8:30 to midnight. Wednesday, Pam and Paula play the flute and violin for no cover. See them from 5 to 7 p.m. Wednesday, Frank and Amy play modern jazz at 8 p.m. for $6. Thursday, it's another round of Cafe Scientific with Fusion Engineer Bob Simmons. There's no cover. Simmons begins around 6:30 p.m. After a thorough education, stay for Rob Levit Group at 8:30 p.m. Levit's music comes with a $6 charge. Friday, Tom Boynton and The Remnants entertain at 8 p.m. for $10. Saturday brings blues from John Jensen at 5 p.m. for no charge. Also on Saturday, listen to Americana roots music with Paul Brown, Gary Wright, and Leah Weiss at 8 p.m. The cover charge is $10 and reservations are recommended. Sunday, 49 West patron Jonathan Stone sings and plays at 10 a.m. for no charge. Moving into the afternoon, Jen, Larry & Pete entertain at 4 p.m. for free. Lastly, Sunday hosts W. Stef Scaggiari and Mark Russell on piano and bass for $20 at 7 p.m. Look to http://49westcoffeehouse.com/calendar/index.php to learn more.
Annapolis gets a dose of vintage class this week with Maryland Hall's free movie night: Breakfast at Tiffany's. Head to the Chase Street location for the 8 p.m. movie on Friday, June 15.
Expressions Dance Company presents "Cascade of Dreams" this Saturday at Maryland Hall. The show celebrates 20 years of instructing willing students the art of dance. The stage lights up with dances from a wide age range of 2 year olds to adults. The tickets are $25. The performance begins at 4 p.m. For Maryland Hall events, head to http://tickets.marylandhall.org/default.asp to procure tickets.
This one goes out to the kids: Chesapeake Children's Museum's "Touch a Truck" on Saturday, June 16 from 11 a.m. to 2 p.m. Kids can look at and tinker a bit with the vehicles of servicemen and women. Other interesting trucks will be there too for oohing and aahing. Admission is $15 per vehicle but proceeds go to the CCM. The kid style truck show takes place in the parking lot of St. Martin's Lutheran Church and School, on Spa Road and Forest Drive.
As Annapolis is a watery town, there are cruises that depart from Annapolis Harbor as part of Watermark Cruises. There are short cruises and ones that involve an all day jaunt to St. Michaels. Check out http://www.watermarkcruises.com/ to search the one right for you!
Annapolis History
History fits perfectly into a weekday when it's all about staying focused on the now to enjoy the weekend later. Paca Girlfriends Flower Power Party is the weekday event this week that melds together history and just the right amount of girly fun. The William Paca House holds the female fun on Wednesday, June 13. Enjoy food, drinks, and camaraderie with your girlfriends in the Paca House garden. Tickets are $20 and the event runs from 6-9 p.m.
Saturday, June 16, William Paca Garden hosts another artsy, outdoor event in the garden. The summer edition of "Painting Four Seasons in the Paca Garden" instructs participants how to capture the beautiful garden with the help of a landscape/garden painter. Tickets are $75 for the public. Be there from 9 to 1 for this paint workshop. Go to http://www.annapolis.org/index.asp?pageid=133 to learn more.
Annapolis Activities & Events Annapolis Family & Children Annapolis History Annapolis Things to Do Articles Downtown Annapolis West Street Activities, Annapolis, Annapolis History, Annapolis Things to Do, Downtown Annapolis, Maryland, West Street