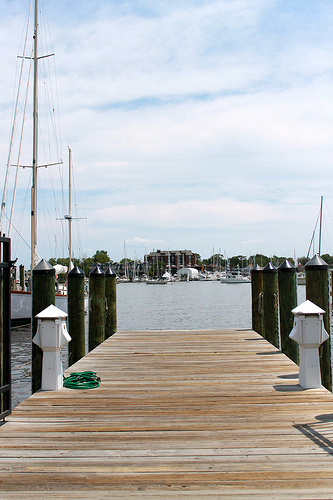 Strolling downtown Annapolis is easy, and the deals and specials displayed below on Dock Street make it easy on your wallet too. Dock Street is one of the easiest streets to tour thanks to parking on-site and the intriguing businesses and restaurants that line the street. Tour the area on land or water, in store or out in the fresh air.
Dine
Dock Street Bar & Grill at 136 Dock Street offers tempting happy hour deals. Monday through Friday from 3 to 7 p.m., the local favorite offers beers, shots, and drinks at half price. In addition to happy hour, Dock Street Bar & Grill entertains daily specials like the one on Monday after 7 p.m., which rewards guests with $3 imports and house wines and $2 domestic beers. The rest of the specials are as follows: $3 Pyrat Punch and $4 bombs on Tuesday, $3 imports and house wines and $2 domestic beers on Wednesday, and any beer or mixed drink costs $3 on Thursday. These daily specials begin at 7 p.m. and end when the bar closes at 2 a.m. For further inquiries, head to http://dockstreetbar.net/index.php.
Though Moe's Southwest Grill isn't exclusive to Annapolis, the laid back restaurant offers a special to downtown Annapolis-goers. Simply join Moe's email list and get a free cup of queso to slather on crispy tortilla chips. Go to http://www.moes.com/ to order online and sign up for the email. Moe's is located at 122 Dock Street.
Armadillo's Bar & Grill believes that when good deals meet kind service and a cool setting, endless fun can ensue. It is for this reason that the restaurant at 132 Dock Street offers $3 domestic beers, $4 import beers, $4.50 shots, $5 bombs, and $5 rail pints. Multiply the good times with live music at Armadillo's, which happens most Thursdays and Fridays at 10 p.m. The live music schedule and menu can be found at http://armadillosannapolis.com/.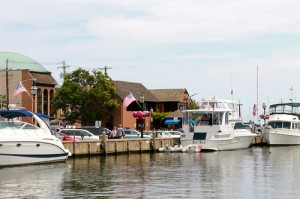 Play
Downtown Annapolis would not be the same without the watery views and docked boats happily floating. Watermark Cruises allows you to enhance views of the famous waters of Annapolis. The cruising company offers several special tours and deals on land and on water. In October, guests can tour the town on foot and learn about the spooky history Annapolis holds–drowned watermen, women who haunt houses, etc. The tours depart from the info booth at 1 Dock Street on Fridays and Saturdays between 7 and 8 p.m. depending upon the time of year. Adults cost $16, children 3-11 cost $10, and kids under 2 are free.
Another historic tour on foot is entitled "Civil War Tour." A 19th century guide takes guests through the streets of Annapolis to educate about life in the 1860s. Stories are told about domestic life, city life, and events that impacted the Annapolis we all love today. The cost for this tour is the same as described above. Tours depart from the info booth at 10 a.m. the second Saturday of April through November.
The "African American Heritage Tour" teaches guests about the history of African Americans in early Annapolis. Explore life through culture. The cost is the same as the tours above. Tours are scheduled for third Saturdays of April through October at 1 p.m. Go to the info booth at 1 City Dock for departure.
The last walking tour is the longest–over two hours. "Four Centuries Walking Tour" takes guests through four centuries of Annapolis history. Prices remain the same as other tours. March 24 through October 28, tours leave at 10:30 a.m. from 26 West Street, March 24 through September 30 and Saturdays from October 20 to December 15, tours depart from the info booth at 1:30 p.m., while tours leave from 1 Market Square at 1:30 p.m. October 1 to October 19.
If the sea breezes call your name, tour the Bay with cruises by Watermark. There are 40 minute tours and longer ones. Forty minutes and $14 will land you an unforgettable tour around the harbor and Naval Academy on Harbor Queen or a tour of Spa Creek on Miss Anne. Kids 3 to 11 cost $5. No reservations are required. Tours depart throughout the day during the summer, but other cruise times during the rest of the year are varied.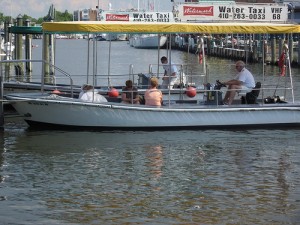 Cruising for 90 minutes costs more, but rewards you with more time for picture-taking and sailing the open waters. There are three areas for cruising: Severn River, Chesapeake Bay Bridge, and Thomas Point Lighthouse in the Bay. The first cruise departs at 12:30 p.m., the second leaves at 2:30 p.m., and the last leaves at 4:30 p.m. Each of these 90 minute cruises cost adults $23 and kids 3 to 11 $10. Additionally, all three cruises depart from the harbor in Annapolis and require no reservations. The days available for touring depend upon the time of year.
The longest aquatic cruise takes guests to St. Michaels for a day of shopping, dining, and memories. The all-day event begins at 9:30 a.m. at City Dock and ends at 5:30 p.m. at the same location. Coffee and doughnuts are provided while cruising in the morning. Watermark leaves three hours of free time for guests to peruse the shops, eateries, and landmarks at St. Michaels. May 19 through September 29 offers cruises on Saturdays, whereas Mondays are available July 16, August 20, and September 10. Saturday cruises cost $72 for adults, $30 for kids 3 to 11; Monday cruises cost $65 for adults and $30 for kids 3 to 11. It's in your best interest to reserve this cruise.
In addition to these land and water tours, Watermark Cruises hosts specialty tours throughout the year. For instance, they will host the "Lighted Boat Parade & Dinner Cruise" on December 8 that takes guests to see the Eastport Parade of Lights. Eat dinner at Severn Inn while on the cruise, enjoy free parking, and participate in a champagne toast as part of the event. There are also yoga cruises, Cinco de Mayo cruises, and Independence Day cruises.To book any of these cruises or to find out more, head to http://www.watermarkcruises.com/index.htm.
Annapolis Activities & Events Annapolis Boating & Fishing Annapolis Day Trips Annapolis Discounts & Deals Annapolis Family & Children Annapolis History Annapolis Restaurants & Bars Annapolis Things to Do Articles Downtown Annapolis Restaurant Specials Annapolis, Annapolis Day Trips, Annapolis History, Annapolis Restaurants, City Dock, Downtown