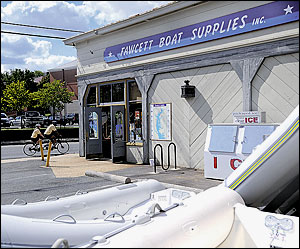 The old Fawcett building is a prominent structure in downtown Annapolis. Controversy is surrounding the building due to a push for a zoning change. The current owner's of the building would like to launch a seafood chain restaurant in the idyllic location at City Dock.
Some are anxious for the building to come to life again. The prime spot, 110 Compromise Street, has been vacant since Fawcett Boat Supplies moved out last January. Fawcett's moved to a new facility across town where they are serving customers more efficiently. The building has been vacant since their move and some Annapolis residents would like to see another business flourishing at the same location.
Others are wary about loosing the maritime characteristics in the area. The owners of the building are in discussions with a currently unnamed seafood restaurant chain that is interested in opening their 111th branch at the City Dock. Some are worried that the uniqueness of the building, businesses, and area will be lost if a chain restaurant moves in.
Decisions are still up in the air about the vacant space. What do you think?
Annapolis News Articles Annapolis, Annapolis Things to Do, City Dock, Events, Maryland, Waterfront