Get ready for an entire weekend of Halloween parties and events at Wild Willy's in Annapolis! If you think you can handle it, go ahead, take a walk on the wild side at Wild Willy's Rock House & Sports Saloon! Put together your Halloween costume and join us at Wild Willy's.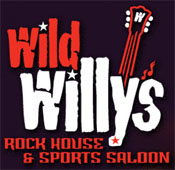 On October 29th the Fleetwood Mac Tribute Band will perform live at 10 p.m. Halloween giveaways will handed out throughout the night and contests will bring out your competitive side!
On October 30th Hyjinx, an Annapolis favorite, will be performing live at 10 p.m. Hang out for Halloween giveaways, contests, and food and drink specials.
On October 31st the "Sindustry Halloween Party" will rock the house! The event features fun games, contests, and drink and food specials for all of those in the hospitality, bar, saloon,and restaurant industry. Perfect for a frightful Halloween night!
"Wild Hour" is from 4 to 7 p.m. Monday through Friday and then again from 10 p.m. to midnight. Enjoy food specials like flatbread pizza, wild wings, sliders and pub chips, crab dip, quesadillas, hot dogs, pulled pork sammys, cheeseburgers, and shrimp for only $4.99 during happy hour. Wild Hour drink specials include $2.50 domestic drafts and bottles, $3.50 house wines by the glass, $3.30 rail drinks, $5 Orange Crushes, and $6 martinis.
Wild Willy's is located at 2072 Somerville Road in Annapolis, MD 21401. Check out their website at: www.wildwillyssaloon.com. We hope to see you at Wild Willy's Rock House & Sports Saloon for Halloween!
Annapolis Activities & Events Annapolis Restaurants & Bars Articles Annapolis, Bar, Halloween, Maryland, Saloon, Wild Willy's