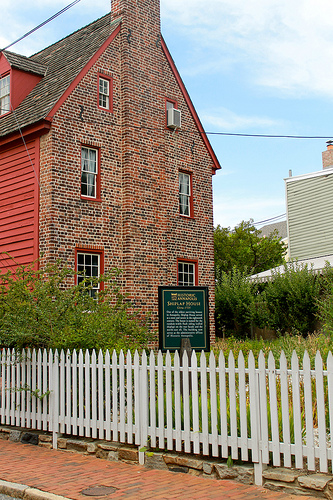 With a name so enchanting and intriguing as Pinkney Street, it's no wonder the historic street in downtown Annapolis is regarded as a great destination. Market Space, too, boasts of history and acts as a prime destination for shopping close to Pinkney Street and City Dock. These streets face one another and together, present Annapolis with dining and deals. Below, you'll discover what the buzz is all about concerning Pinkney Street and Market Space.
Dine
You've seen Middleton Tavern before; it's the cranberry colored structure with a red and white striped awning. It faces Market Space and backs up to Prince George Street. Truly, it's in one of the most convenient locations thanks to its close proximity to parking at City Dock, the views of the harbor, and ample shopping all around. Aside from its outer beauty, Middleton Tavern hosts specials and deals on food and drinks. True to form, the tavern established in 1750 offers local oysters and clams on the half shell and mussels Monday through Friday. No special coupon is needed to scoop up these saltwater delicacies at Middleton's. On Wednesday, guests receive wine bottles at ⅓ off the regular price. This wine deal runs all day. Mondays, taste another ocean treat–lobsters–straight from Maines's cool waters.
The historic tavern proudly hosts what they term "Middleton Time." This happy hour supplies guests with discounts on drinks and food Monday through Friday from 4 to 7 p.m. Inside the bar guests receive $2.50 pints of Miller Lite and Yuengling, $0.95 oyster shooters, $1.25 shrimp shooters, $3.50 Middleton's Ale, Pilsner Urquell, Guinness, Stout, and Blue Moon, $1.50 oysters, $3.50 house wines, $1.25 clams, $3 rail drinks, $7.25 mussels, and other food specials. Choose from hot crab dip for $10.75, oysters rockefeller for $7.75, potato skins for $7.50, and plenty more hearty dishes during Middleton Time.
Want a more intimate setting when dining? Middleton's, along with its sister restaurants O'Brien's and OB's Prime, hosts the perfect setting and price for date night. Enjoy a three course dinner for $21.99 per person. The fantastic dinner price includes ⅓ off selected wine bottles. Any of the three restaurants mentioned above entertain this special.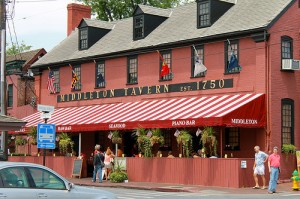 Middleton Tavern excites the music scene as well. The tavern hosts "Annapolis Unplugged," a music series that puts area talent on display. The music show takes place every Wednesday night at Middleton Tavern. To accompany the performances, Middleton offers drink specials and prizes. Annapolis Unplugged's Facebook page supplies updates for musical performances and more: http://www.facebook.com/annapolisunplugged. Or, go to http://www.middletontavern.com/entertainment.html and click on the PDF to view this month's schedule.
As a side note, Middleton can host your next big event. Complete with a piano bar, private rooms and helpful staff, it's easy to entertain friends, family, or whomever. For any inquiries concerning Middleton Tavern, head to http://www.middletontavern.com/home.html. Middleton Tavern is located at 2 Market Space.
McGarvey's Saloon is also near Market Space, but just like Middleton Tavern, it's right off Pinkney Street. Established in 1975, this restaurant featuring a raw bar stands as one of the best dining options in downtown Annapolis. For those who enjoy the theatre, McGarvey's is most certainly a wonderful option. The saloon offers $3 off any entree with a ticket stub from one of Annapolis Summer Garden Theatre's shows. Dining before a show? Bring your meal receipt to Annapolis Summer Garden Theatre and receive $3 off your show cost. Reciprocity! Other food specials are updated daily on the site. Head to http://www.mcgarveys.net/index.htm to learn more about this establishment and its specials.
Maria's sits at 12 Market Space on the corner of Pinkney and Market Space, almost as if it represents a little corner of Italy. The food is classic Italian but the drink specials are universally pleasing. Happy hour specials include 50% off appetizers, like calamari, bruschetta, mussels, and mozzarella corrozza. True to Italian style, eating and relaxation are part of every meal, especially on Sunday. Maria's serves an Italian Sunday brunch, complete with varied omelettes, other egg dishes paired with meat or toast, and fruit. Dine from 10 a.m. to 2 p.m. View their site for more information: http://www.mariasannapolis.com/page/home.
Federal House Bar & Grille's building may be blue but it's specials and lively entertainment are far from sad. In fact, their happy hour is sure to please. Monday through Friday from 4 to 7 p.m., guests receive $1 off all bottled beer, $2 off wine, rails, and draft beer, and $3 off liquor. Enjoy certain dishes for $5. At Federal House, Tuesday and Wednesday nights rock with music and tons of socializing. Tuesday, put on some dark glasses and try your hand at poker–it's open to all over 21. Wednesday, sing, dance, and join in the camaraderie with "Dueling Pianos." Jacob Wolfson, a pianist, brings his friends for a healthy piano competition to this event. Aside from the piano music, Federal House welcomes musicians every night of the week. Go to their homepage to view a certain day's performance: http://www.federalhouserestaurant.com/. In addition to these specials and events, text "FEDHOUSE" to 410-205-6929 to join the text club and receive food specials on your phone!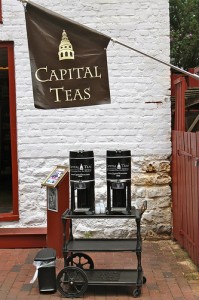 The deal of the day from Capital Teas–usually about 40% off selected teas–belongs in both the "Dine" and "Shop" sections. The family-operated company sells international teas: white, green, black, herbal, oolong, roobios, and other types. The deal changes often, but can be found on their site here: http://www.capitalteas.com/default.asp. One of Capital Teas' location is found downtown, at 4 Pinkney Street. To inquire further, visit the store, go to the website, or call the store at 443-837-7823. Can't make it to the store? Purchase straight from the secure website and let the tea antioxidants make you luminous.
Play
It's valid to say learning history in an unconventional way is more pleasurable than simply reading about historical events in a textbook. As is the case, The Hogshead at 43 Pinkney Street demonstrates 18th century life via trained actors in 1700s gear. Learn about hunting, wars, and more colonial excitement. Head to 43 Pinkney Street on Saturday or Sunday at noon to bring the past to life. The active exhibit runs for approximately four hours. To find out more, go to http://www.annapolis.org/index.asp?pageid=138.
Annapolis Activities & Events Annapolis Discounts & Deals Annapolis Family & Children Annapolis History Annapolis Restaurants & Bars Annapolis Things to Do Articles Downtown Annapolis Restaurant Specials Annapolis, Annapolis Restaurants, Annapolis Things to Do, Downtown