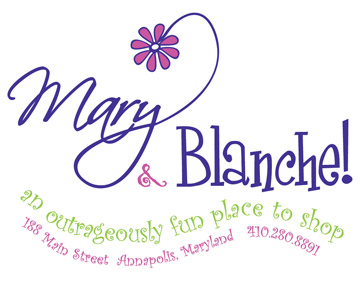 Mary and Blanche!, arguably the kookiest, most uniquely stocked store in the area, sits on the high end of Main Street in downtown Annapolis. Once inside the store, a sea of lilac purple and lime green jumps out and grabs you. Weaved through the bold colors are the equally bold and fun merchandise–anything from bacon air fresheners to wildly inappropriate cards for funny friends. The owners, too, are just as fabulous and hysterical. When I walked into the store on a Monday morning (after taking in all the colors and comedy), a friendly Melissa Rainford ("Mary") greeted me and assured me her mom/business partner, Marian Rainford ("Blanche!"), would be there soon. I didn't mind; I wandered around the store laughing all the while at the prospect of sending my old high school friends goofy cards. Also while waiting for Marian, Melissa and I chatted about the boat races downtown and other Annapolis events. Overly enthusiastic, Melissa refused to talk without her hands. She wore several bracelets that day, and they clanged a metal melody when she talked with her hands. A few minutes later, Marian flew into the store offering apologies for being late. With Marian there, I conducted what I typically call an "interview," but with Marian and Melissa, I happily dubbed it a conversation. In the process, I learned about an incredible business run by enthusiastic, interesting owners.
Initially, I wanted to learn about the foundation of Mary and Blanche! but as time went on, I just wanted to know Marian and Melissa. Perhaps it was Marian's gelled and faintly spiked hair, or maybe Melissa's enthusiastic gestures made me want to know them. Regardless, I discovered the history of Mary and Blanche! but also found out that the owners truly do run a small business. As in, anytime you go into the store, either Marian or Melissa will be there, or perhaps both. Melissa adds, "People don't realize that when I take a day off, my mom has to work." It's a good thing the owners like one another.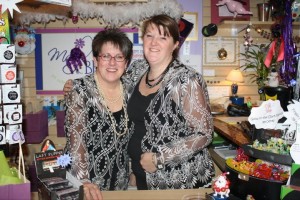 started the conversation with Mary and Blanche!'s history. Marian shares that the location on Main Street is the second one; the first was located on Maryland Avenue. The Maryland Avenue location opened in 2006 but as Marian explained, it wasn't the ideal spot. "We did enjoy some success there, but it was more of a traffic issue," she starts, "We needed more." Thus, after three and a half years (in 2010), Marian and Melissa made the trek over to Main Street. Now, they see much more foot traffic, and as Marian exclaims, being on Main Street "has been a phenomenal experience."
Melissa fed off her mom's energy and gave her own input regarding the store's location. "This end of Main Street is very local," she says, but by the same token, "We get a healthy mix of visitors and tourists."
Discussing the transition from Maryland Avenue to Main Street led to praise for Annapolis. Both Marian and Melissa worked in metropolitan cities in previous careers, although for the cheery Rainfords, Annapolis is exponentially better. "Annapolis is a big town in a small city," Melissa says and then continues "And the town has a laid back sense of humor." Marian quickly adds that "even though Annapolis is the state capitol, it's the smallest town I've lived in. Everybody knows everybody. We even know the mayor on a first name basis. It's very insular." There's also a familial vibe that courses through town. Melissa and Marian frequent Annapolis events and socialize with vendors and store owners downtown. Downtown business owners practice healthy reciprocity, where everyone simply wants to know how everyone else is doing.
A slight digression here is necessary, simply because that's how the conversation went with Melissa and Marian. On any given day you visit Mary and Blanche!, you'll find a harmonious mix of customers. As Melissa explains it, there are different levels of customers who shop at Mary and Blanche! Melissa and Marian see people who visit for a day, people who visit for the summer, and others who call Annapolis home. In fact, Annapolis in general sees these levels of visitors. The significance here depends upon the perspective. For a business, the influx of customers throughout the year equates to a wider reach that promotes the business. For Marian and Melissa, the transitional pattern of customers means they have interesting people to talk to all year long. Essentially, both businesses and Annapolis win with the surge of excited visitors. Of course, locals are beloved as well; just ask Melissa, who says "We love the tourists, but rely on the locals."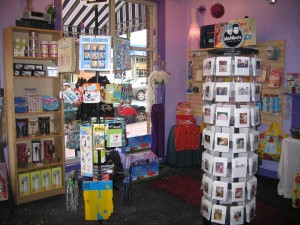 and Melissa also gave insight into how they buy merchandise. The mother/daughter duo not only buys by seasons, but also purchases according to the rotating levels of customers. Marian says near the fall, Mary and Blanche! stocks up on holiday items. However, just because the holiday rolls around doesn't mean customers aren't seeking outrageously funny gifts. Mary and Blanche! keeps a few items in stock all year long because they know customers will continue to buy those items. For instance, customers go hog wild (pun intended) for the bacon paraphernalia by Archie McPhee. Bacon is no joke to Mary and Blanche! goers, who follow the store on Twitter simply to keep up with new bacon products in-store. Melissa adds "People will come into the store and want to know what new bacon thing we have because they buy bacon stuff for their nephew, their dad, etc."
Since the bacon and other novelty items prove so beloved, it's safe to say Marian and Melissa have the buying aspect down. The duo told me that each year they attend a massive show in New York filled to the brim with vendors and interesting merchandise. Marian and Melissa roam the multiple floors and hand pick items they like. Marian explains their goal for the show is to purchase merchandise no one else would have. "The kiss of death is when a vendor says 'Everybody has this' and we just slowly walk away," Marian halfway jokes. Melissa adds that both she and her mom have to be in agreement before purchasing an item, although there's no tangible understanding involved in the purchase. "We just go off our gut," Melissa says.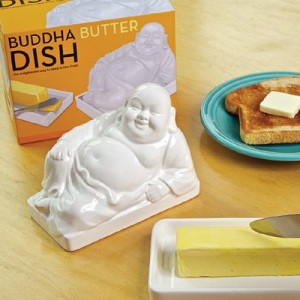 gut feeling certainly proves effective, since the store receives so much great feedback. "I have people who tell me they could stay in the store all day long, just reading everything and listening to the music," Marian says. Those customers who communicated that are indeed correct; the store houses tons of sassy magnets, sarcastic greeting cards, and books on a range of subjects. Marian and Melissa section off parts of the store for bacon items, nerdy/tech items, baby gifts, greeting cards, pig items, and jewelry. Weaved through the items that range from cheeky to dirty humor are fancy, high-end items like silver salad tongs, dish towels embroidered with crabs, and glassware. For some like me, the best part of the store is the floor, which is purple and covered in silver glitter. Perhaps the hand picked items coupled with the glitzy floor is why Marian and Melissa expect anyone from two to ninety-nine to shop there.
At this point in the conversation, I was completely enthralled with the owners and wanted to know them on a personal level. I prompted the question about their lives before Mary and Blanche! and Marian laughingly pointed to Melissa to start. Melissa shot an annoyed look at her mom and then responded she most recently took on the role of mother. Before that, Melissa spent time working on Capitol Hill as an executive assistant. Stepping even further back into her history, Melissa worked in retail with Old Navy and a few other stores.
Marian, on the other hand, shared her history in a simple statement. "I was in corporate life and when I hit fifty, I was done," she shares. While Marian still involves herself in a business setting, she hangs out with her daughter all day surrounded by sassy merchandise and glittery floors. Another perk of running a business with her daughter? The ability to supervise and plan as she pleases. When I asked what plans were in Mary and Blanche!'s future, Marian bluntly yet jovially replied, "We don't plan." More seriously, Marian shared that expansion is based upon the economy. As for now, the ladies claim they "just want to make people laugh." Although Marian cuts in: "We want to make money too; we're hoping that happens someday." True to form, Marian and Melissa left the conversation on a comedic note, and I would have expected nothing less.
Running errands downtown? Docked at the harbor for the day? Visiting for the summer? You'll be among the many who filter into Annapolis for a certain length of time, those of whom visit Mary and Blanche! and come back after falling in love with the store. But don't delay on purchasing goodies; Mary and Blanche! isn't a big chain and therefore can't keep lots of items in stock. If you see a hilarious birthday card or a bacon band-aid container while shopping downtown, purchase, purchase, purchase! See what goods Mary and Blanche! carries before you go on their site: http://www.maryandblanche.com/.
Annapolis Shopping Articles Downtown Annapolis Annapolis, Annapolis Shopping, Downtown