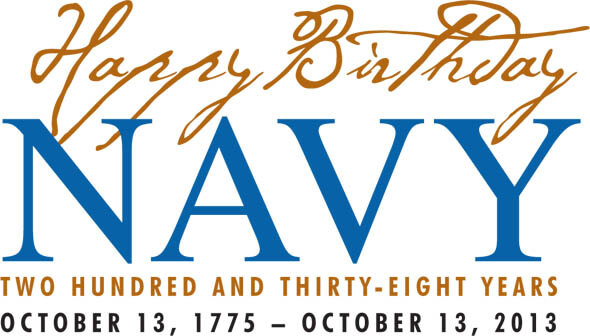 The United States Naval Academy and Annapolis Celebrate the Navy's 238th Birthday
Annapolis Celebration:
The U.S. Naval Academy and the City of Annapolis Celebrate Navy's 238th Birthday with events,  activities, and Navy Specials during the week of October 7th – October 13th.
Select businesses in downtown Annapolis will also celebrate the birth of the Navy with birthday themed "specials" at stores on Maryland Avenue, Main Street and along inner West Street, also known as Gallery Row.
The Brigade of Midshipmen plan to honor the event with a cake-cutting ceremony in King Hall.  This ceremony has deep roots in Naval tradition where the first slice of cake is made by the oldest and the youngest members within the command.  The Naval Academy will honor the City of Annapolis with a concert at Lawyer's Mall in front of the State House on October 7th.  City, State and Naval Academy officials will be in attendance.
History:
238 years ago, on October 13, 1775, the Continental Congress authorized the procurement, out-fitting, manning and dispatch of two armed vessels to ensure that British ships did not supply munitions to the British Army in America.  This legislation also created a "Naval Committee" to supervise the work of America's first Navy.  During the War of Independence, America's young Navy grew to include 50 ships with up to 20 comprising the active fleet.
After the war was won, Congress sold the remaining ships and released the seamen and officers.  However, when the Constitution of the United States was ratified in 1789, it empowered Congress to "proved and maintain a navy."  In 1794, Congress acted on this authority and authorized the purchase of six war ships which were managed by the War Department.  On April 30, 1798, these ships and all the responsibilities for naval affairs were moved to the newly created Department of the Navy.  (This information was provided by the Naval History and Heritage Command.)