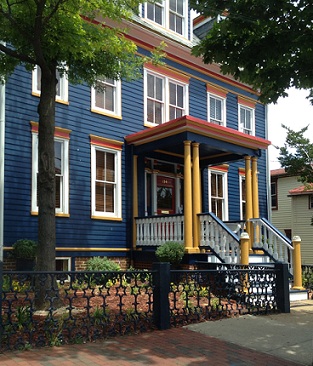 In a world where spending dollars is as easy as taking a breath, those who want to have a keepsake or buy the necessities may find many stores too pricey. However, we here at Annapolis.com want to celebrate the city of Annapolis in style and on budget. Below you'll find a guide that will help you spend lightly but enjoy deeply.
Stay
Prince George Street runs behind the majority of traffic to downtown Annapolis, but that doesn't mean it's not worth seeing…or staying! The pet-friendly, conveniently located, and vividly colorful Academy Bed and Breakfast is run by local Annapolitans. It's immaculate yet comfortable and is affordable. One of the packages, "Girlfriend Getaway," is perfect for reconnecting with old friends or sisters-in law. This package includes accommodations for four, $80 to spend at Red Red Wine Bar downtown, access to historic tours of Annapolis, and a gourmet breakfast for all. Naturally, rates depend upon a few factors. Book either Friday or Saturday night and pay $155 per guest. Stay both of those nights and pay $255 per person. Booking one night between Sunday and Thursday costs $125 per person. Two nights between that time frame adds $100 on for each person.
Interested in a bit of romance for your overnighter? Book the "Wine Down in Annapolis" with Academy B&B! This package rewards guests with a $25 gift card for food and wine at Red Red Wine Bar, a gourmet breakfast for the lovers, and a deluxe room. Rates are as follows: one night (Friday or Saturday) is $295; two nights (Friday and Saturday) costs $450; one night between Sunday and Thursday costs $225; and finally, two nights between that time frame is $385. These rates include accommodations for two people. To find out more information on these packages, head to http://academybedandbreakfast.com/. Fun with the girls or romance with your partner awaits you, as do the spacious rooms and accommodating staff at Academy Bed and Breakfast.
Next up, another historic favorite: Gibson's Lodgings. Set right next to the Naval Academy and a hop, skip, and a jump from City Dock, Gibson's Lodgings is the prime location for a stay away from home. Actually, the lodgings at 110 Prince George Street offer three houses on the property. Rates for April through December run from $129 to $259, whereas January through March costs only $59 to $139. What's the deal here? Not only does Gibson's offer comparable pricing, but they also award guests with a free breakfast. There is also parking on the property, which is very rare in Annapolis. Visit their site, http://www.gibsonslodgings.us/about_inn.htm to learn more.
Yet another elegant place to stay downtown: Annapolis Inn at 144 Prince George Street. Like the enticing hospitable options we discussed before, Annapolis Inn offers exclusive offers. The first of these offers is romantic, luxurious, and budget-friendly. "A Romantic Getaway" at Annapolis Inn features a chauffeur service, a sailboat cruise for the family, a bouquet of flowers, an in-room massage for two, concierge service for dinner, a bottle of alcohol accompanied by chocolate covered strawberries after dinner, a horse-drawn carriage ride, and lastly, petals strewn about the bed. Romantic, isn't it?
For some, the "Cooking Classes" package can be just as romantic as the first package with Annapolis Inn. Learn new cooking techniques while testing out your skills in the Annapolis Inn kitchen. No culinary training is necessary–the staff is skilled and happy to instruct beginners and experienced home chefs. Impress a mother-in-law, your parents, or a special friend you'd like to make into something more.
"Family/Student College Visits" is certainly convenient for those who have family or friends in the Naval Academy. As USNA hosts events like Induction Day and Navy sports games, those who wish to support must find lodging, preferably close to the academy. Let Annapolis Inn house you! Breakfast is supplied, and Annapolis Inn only charges for two people, even if the USNA student chooses to stay the night too.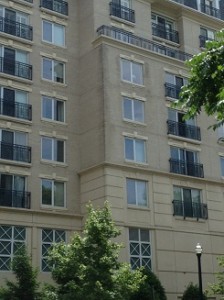 The last package Annapolis Inn offers is called "Girlfriends Getaway." This package is incredibly flexible, and allows guests to choose the dates, duration, and activities included. From the activities suggested, enjoy a limo ride from your starting point, a spa day in Annapolis, and a tour of Annapolis via land or sea. Even still, Annapolis Inn can brainstorm other fabulous activities if those don't appeal to you. Activate the following link to learn about packages and how to find out the prices: http://www.annapolisinn.com/exclusive-offers.htm.
Play
Annapolis history is nearly synonymous with William Paca House, located at 186 Prince George Street. To celebrate the city's great and extensive history, William Paca House hosts events like tours with a colonial and painting the house garden by season. While there are no tours in January and February, March brings tour dates on weekends–Saturdays from 10 a.m. to 5 p.m., and Sunday from noon to 5 p.m. Tours run every hour and half hour through the time frame for that day. At the end of March, regular tours start up: 10 a.m. to 5 p.m. Monday through Saturday, and Sunday from noon to 5 p.m. Adult admission is $10; seniors pay $9; ages 6 to 17 pay $5 and kids under 6 are free. If you're tight on money or time, pay $7 and just tour the garden. As far as events go, William Paca House offers new events all year. These events usually require a small fee. Whether you tour the grounds, tour the house, or participate in events at William Paca, you'll experience the best of Annapolis history. Go to the following link to learn about tours and what else the historic site offers: http://www.annapolis.org/index.asp?pageid=42.
Though the National Sailing Hall of Fame is at the end of Prince George Street, it's smack dab in the middle of the sailing action. Learn about the role women sailors play in the sport, view the photography exhibits at the gallery, and watch videos about races to Bermuda and sailing hall of famers with the nautical establishment. The National Sailing Center & Hall of Fame also hosts events, like Bull and Bear Sailing. Call the sailing place at 877-295-3022 or visit them at 67-69 Prince George Street.
Shop
Maria's Picture Place isn't on Prince George Street, but the close proximity to the featured street coupled with its summer deals place it in this guide. Maria's is located on 45 Maryland Avenue, and maintains the same focus on Annapolis history and beauty as does the rest of downtown. The gallery holds photos and paintings by M.E. Warren, A. Aubrey Bodine, and many others. They have black and white photos, posters, and photography. The sale is only in store–check it out! Call 410-263-8282 to learn about the deals and more.
There you have it–a guide to specials and deals on Prince George Street. Even if none of these deals strike your fancy, take time to wander over the bricks on Prince George Street. Much of the street is residential, and all of it is historic. It's the perfect street to explore for the first time, snap a few pictures of, and stroll about on a beautiful day. Explore your town!
Accommodations Specials Annapolis Accommodations Annapolis Discounts & Deals Annapolis Family & Children Annapolis Shopping Annapolis Things to Do Articles Downtown Annapolis USNA Activities, Annapolis, Annapolis Accommodations, Annapolis Hotels, Annapolis Shopping, Downtown, USNA