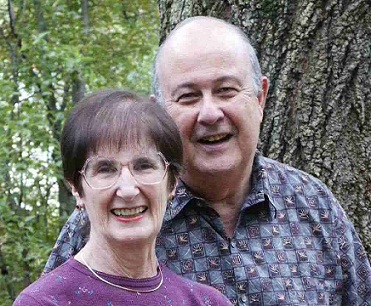 I'm sitting in the living room of Rosemary and Larry Mild, a married couple in their seventies or so, and the amount of decorations and collectible items astonishes me. The Milds' home is in Severna Park, but the Japanese Daruma dolls, pictures, and trinkets from international places suggest the home is only one of many places they frequent. "Those are Daruma dolls up there," Rosemary starts, "You're supposed to roll the 'r' but I can't do it. Anyway, we got them in Honolulu." Her husband soon adds that when you buy a Daruma doll, the eyes are not painted; you paint one eye when you embark on a journey, and paint the other upon completion of that journey. Both Rosemary and Larry smile at me from across the well seasoned sofas we sit on; they're happy I contacted them after spotting them at First Sunday Arts in June. They had a booth there, covered with the mystery and memorial novels they authored. As a writer, I was enthralled with the idea of writing an article about writers. Before I knew it, I was sitting in their living room, being offered coffee and told about the places they've traveled. In truth, I was looking for some intriguing quotes to weave into a story, but I what I discovered about the Milds was so much deeper than a 500 word article. The world-traveling writers taught me to cherish memories, pursue dreams, and seize every moment because life is fleeting, as they know too well.
Imagine the anxiety a parent has in letting his or her only child visit another country for months. There is trust in the child, but there are ripples of concern that echo through the parent's mind. For those of you who are parents and have let your children travel the world, you most likely understand the feeling I'm talking about. Even for those who don't have kids, you can certainly understand deep concern. When concern sets in, the mind often attempts to pacify the worried frenzy in repeating "Everything will be okay," but this becomes especially difficult if the person has a vivid imagination that puts the child's safety in jeopardy. Assuming the worst never helps because for most, the worst never happens to their child. Such is not the case with Rosemary's child, Miriam Luby Wolfe. Upon learning her only daughter may have been on the Pan Am 103 flight, Rosemary writes in Miriam's World–And Mine "'I'm not going to assume the worst.' But I did assume the worst."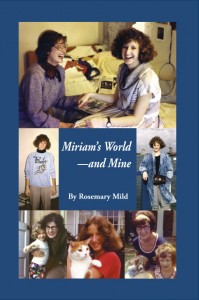 Miriam's World–And Mine shares the jerky rollercoaster ride of learning her of her daughter's death and its aftermath. She catalogs memories of Miriam's childhood, conversations the two had while Miriam studied abroad in Europe, and arguably most what's most impactful–the legacy Miriam left behind. The young Broadway hopeful had a personality nearly too encompassing to fit into the pages of Miriam's World–And Mine. Those who were lucky enough to know her before Pan Am 103 went down in 1988 showered Rosemary with love and gratitude for her vivid spirit and friendly demeanor. Every person Rosemary recognizes in Miriam's World–And Mine praises Miriam's bountiful love and companionship. "Miriam had a gift for infecting the lives of others in a positive way," Larry says with a bright smile because he was reminded of Miriam, "We had nearly a thousand letters of support coming in from all over the world after she died." Rosemary adds she and her husband still hear how wonderful Miriam was from her grade school classmates. And it is for this reason that when I asked Rosemary why she wanted to write a novel about Miriam, she answered "I wanted to immortalize her." She has too; aside from Miriam's World–And Mine, and the novel's first edition, Miriam's Gift–A Mother's Blessings, Then and Now, Rosemary published many of Miriam's writings in children's magazines and other mediums.
Rosemary explains that initially, her decision to write a memoir for Rosemary came from the rounding up of other Pan Am 103 families. The Milds and these other families sued Pan Am 103, and coupled with that, they all felt slighted by the State Department because there was no mechanism in place for what happened to the affected American citizens. She and Larry also wanted Miriam's personal effects back. As Rosemary writes in Miriam's World–And Mine, kind Scottish people recovered many personal belongings at the crash site in Lockerbie, Scotland. All recoverable items were returned, including some of Miriam's clothes and writings.
In addition to the bond she made with other Pan Am families, Rosemary discovered Miriam's buried writings that allowed her to bond with her daughter posthumously. "I found wonderful short stories and journals," she remarks, obviously delighted at the discovery years ago, "And I decided to write a book about it." It wasn't just the recognition of Miriam's creative spirit that prompted Rosemary to write about her daughter; Rosemary wanted her daughter's works and brilliance to blossom in the world, so she published much of Miriam's writings in Miriam's World–And Mine. Miriam was just as cheery and intuitive in her writings as she was in life, which is why those who didn't know her then can love her today. "The hardest thing is to know what she could have accomplished," Rosemary says. Although Miriam certainly would have achieved great things, read Miriam's World–And Mine and you'll be astonished by what a 20 year old theatre major did accomplish.
Most of the lives of great writers involve personal tragedies. Though Rosemary worked in editing for years, the loss of her daughter spurred on novel writing. Now, she and Larry produce novels every couple years and love it. Larry establishes the plot and then Rosemary "livens up the scenery and gives personality to the characters," as Larry says. And how does the couple come up with characters? "You do a little research here and there and then you see someone and say 'That person has to be in the book!'" Larry laughs. Rosemary turns from looking at her husband to me, and excitedly adds "You have to get into the culture too. We'll be in Hawaii and see a fisherman stuffing an octopus into the water and I'll want to put that in the book!" The Milds say the hardest aspect of co-writing is maintaining one voice–a very challenging thing to do because everyone has a different style of writing. The couple writes in the same workspace, busting that old myth that a happy marriage involves separate spaces. Perhaps the key to a successful marriage is just the opposite–working together creatively. It seems to work for Rosemary and Larry, although she does allude to a sore point between the couple. "Larry has all these colorful stories from his Navy days, and I want him to write them down," Rosemary smiles as she sends a sassy look to her husband, "But he thinks they're mundane." Larry throws his hands up and says, "What can I say?" Even still, the Milds can produce one heck of a novel together.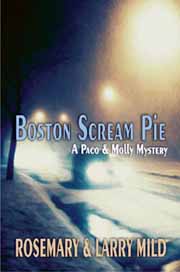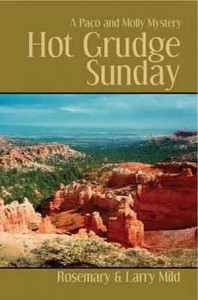 You, the intuitive reader, probably figured Rosemary and Larry write suspense stories thanks to the title of this article. You're indeed correct. I asked the pair why they like the mystery genre, and just like a thoughtful, caring couple, they looked at one another before answering. Larry laughs and says, "I was introduced to literature by the mystery genre by good 'ol Sherlock Holmes." Aside from Larry's penchant for mysteries, he and his wife had two real-life characters in mind for their novels, and the mystery genre seemed to fit. In fact, the couple carried out their real-life inspiration through three novels, formally known as the Paco and Molly Series. In this series, the quirky Paco and Molly work as an unconventional team to solve mysteries, although something usually goes ary. Boston Scream Pie, Hot Grudge Sunday, and Locks & Cream Cheese comprise the Paco and Molly novels. What's even more enticing about this series is that the setting is local. Boston Scream Pie includes a chase scene downtown! To read more and order these novels, head to http://magicile.com/index.html. (The website name is pronounced "Magic Isle.") Back to the mystery genre, Rosemary jokes "Mystery writers are generally amiable because they get out their frustration through writing." The couple also taught a creative writing course with a concentration on mystery and suspense at Anne Arundel Community College that furthered their interest in the literary genre.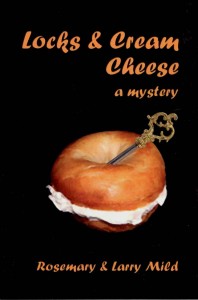 After the publication of their first novel, Locks & Cream Cheese (in 2002), Larry and his wife were exhilarated. "It's nice to see yourself in print," he says. Rosemary beams as she adds, "We have immortalized ourselves." She pauses and exclaims, "I have used 'immortalized' so many times today!" I laugh because it's nice to see someone so smart and accomplished make fun of themselves. Rosemary continues nonetheless, "All our books are print on demand, and available for eReaders." The most recently published novel is a mystery set in Hawaii entitled Cry Ohana.
Presently, the Milds are working on a new series that's set in an Annapolis Victorian house. In addition, they work toward publishing more of their twenty-some short stories. Rosemary is authoring another book on her own, this time, about her mother. Rosemary is still on Larry about writing of his military experiences as well, which will probably never cease. Writing doesn't take up all their time though; traveling and experiencing life is just as important for content purposes. The Milds visit Larry's children and grandchildren in Hawaii over the winter. Outside of the States, Larry and Rosemary visited Japan, China, Australia, New Zealand, Thailand, Egypt, Cambodia, France, and a few other countries. The Milds are also avid redskin fans, as Rosemary relays with a confident smile, and they both enjoy art. Individually, Rosemary does jazzercise at a local church. Larry's recent health debacles prevent him from doing beloved activities like tennis, but the couple still plans to travel via motorhome.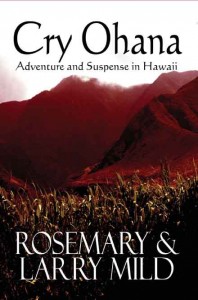 Just as the Milds brought back Japanese Daruma dolls from Hawaii, I carried away inspiration to write and hope that I will be as motivated and creative when I reach the age of Rosemary and Larry. Within that inspiration, I also brought home the legacy of Miriam, and the importance to truly live every day. While a memory is intangible and therefore sometimes difficult to retain, Rosemary writes "My mission is to keep Miriam and her bountiful spirit alive for generations to come," and now, those who read Miriam's World–And Mine can do the same. It's always the appropriate time to appreciate what you've got. Take a lesson from Miriam: live big and share it with others!
Looking into writing creatively? Here's some tips from the published couple:
•Write chapter summaries so you can remember what direction to take the plot.
•Attend a few classes at a community college.
•If you plan to write with someone else, don't expect to actually write together. One of you will write first and the other will come behind, much like Rosemary and Larry's writing process.
•Don't worry what people will think of you–Rosemary was very bold in her second edition of Miriam's World–And Mine than she was in the first, Miriam's Gift–A Mother's Blessings Then and Now (no longer in print).
•According to Larry, "The thread of the story has to be true for non-fiction, but that's the only part. You can't just write what happened; you have to embellish it and make it dramatic or nobody will read it."
•"Characters are the most important thing in any writing," says Larry. Rosemary adds "You have to know a lot about your characters, even mannerisms."
•Add a little suspense–Rosemary believes there is suspense in every good piece of prose.
•Never give up writing–Rosemary says she and Larry "will still be writing at 105. There's no limit to our imaginations."
•Don't be afraid to write about a tragedy, because something good may come of it.
Visit Rosemary and Larry at First Sunday Arts or on their website provided above.