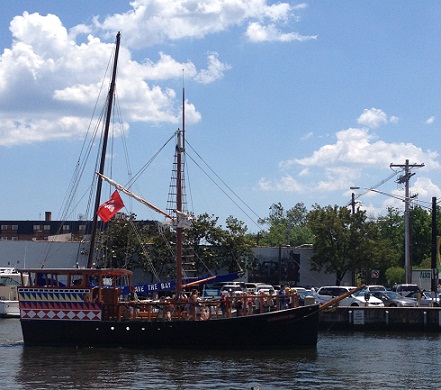 By tradition, Sundays are for rest but there's nothing wrong with saving a little cash while relaxing! All over town, there are discounts from restaurants, businesses, and hotels that either start on Sunday or include Sunday in their endeavor to please shoppers and patrons. We've got the scoop below to keep you in the know on how to save some dough. As more deals come in, we'll update this article and place the new discounts at the top. Read on and check back often!
Dine
Attention lovers of chicken wings: Sam's on the Waterfront features three kinds of wings all day on Sunday for half-off! And what accompanies juicy, messy wings better than a massive drink? Sam's also features bottomless Bloody Marys and Mimosas all day, which means you can order as many wings as you want because drink refills are free! Sam's is located at 2020 Chesapeake Harbour Drive East, in Annapolis. The location is stunning, and although it's not in the buzz of downtown, it's not too far away. Visit their site to learn more: http://www.samsonthewaterfront.com/main.html.
Hospitable and immaculate, the O'Callaghan Hotel on West Street is the desirable destination for any trip or occasion. It so happens that O'Callaghan is also dedicated to providing the best deal for Annapolitans. Save money this Sunday at O'Callaghan's in-hotel restaurant, John Barry! Purchase any large plate from the dinner menu and receive a delectable dessert on the house. All you need to do is print the online coupon and treat your tummy to what it really wants–dinner and dessert. Find the coupon here: http://www.ocallaghanhotels-us.com/annapolis-hotel-deals.
Stay
Quality Inn on Whitehall Road (near the Bay Bridge) offers you money saving over a few Sundays! Book two separate stays there before August 15 and receive tempting rewards, like $50 to spend on gas, food, and other necessities! While the hotel may not be downtown, it's ideal for quick trips at a cheaper rate, or when all the hotels downtown are booked. There's a multitude of parking as well! Looking to book? Phone 410- 974-4440 to learn more.
Comfort Inn at 76 Old Mill Bottom Road also offers the $50 gift card deal! This hotel is located closer to downtown Annapolis and has recently been completely renovated. Like Quality Inn, Comfort Inn features ample parking and spacious rooms. Call 410-757-8500 to book now!
Country Inn & Suites by Carlson on Housely Road also spreads out the savings over many Sundays. Their savings is a bit more romantic than Quality Inn's, because Country Inn & Suites offers an entire romantic getaway package valid for Sundays. This package includes breakfast for two, a bottle of wine, a box of chocolates, a vase of flowers, a comfy and clean bed, and a late checkout. If you're a member of Club Carlson, you'll also receive 2,000 Gold Points. In addition to the romantic gestures from Country Inn & Suites with the romance package, you'll enjoy the hotel's other amenities, like a loaning library, fireplace, gym, newspaper service, and fresh cookies. Rekindle the passion or fall more deeply for your partner–Country Inn & Suites makes it easy! Call 410-571-6700 to learn about the rates, which are dependent upon the time of year.
Because Annapolis becomes even more bright when the week is over, the lovely Annapolis Marriott Waterfront wants to have a full on house on the weekends. Guests can enjoy strolling about downtown, watch boats dock and leave the harbor, slurp ice cream, and do some shopping while at the luxurious downtown hotel. Book 15 days prior to arrival and receive the special nightly rate of $269. Book any night but Saturday for this package. Want to stay a Saturday night anyway? Take advantage of the "Weekend Package." The rate for this package is $401 per night. Interested in experiencing the ever so elegant Annapolis Marriott? Follow http://www.annapolismarriott.com/ and book a stay today!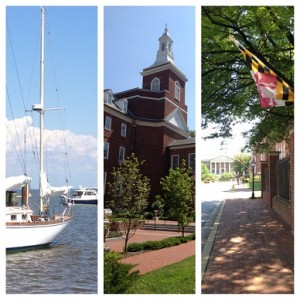 Play
Sometimes it's easy to take Annapolis' close proximity to the Bay for granted, but Annapolis Maritime Museum gives families a reason to celebrate it on July 22! The family-oriented museum hosts the first of its "Sunday Fundays" next Sunday from 4:30 to 6:30 p.m. Families will learn about the Bay, hunt for sea critters, and build boats from aluminum foil. Invite friends and bring snacks to maximize the fun. The best part? It's all free! Call 410-295-0104 to learn more.
Save money on expensive trips abroad by sailing to new places with Schooner Woodwind cruises! Specialty cruises run on Sundays through the end of cruising season in October. Foodies and booze enthusiasts will especially love these specialty cruises around the waters of the Bay. Tour the local waters while taking your palate on a tour of international places! "Wine in the Wind" tours feature three hours worth of wine tasting, whereas "Everything Local" dinner cruises allow guests to taste the flavors of the East Coast. Meet people, make connections, and solidify yourself as a thrifty traveler. Go to http://www.schoonerwoodwind.com/specialty-sailing-cruises-chesapeake-bay/schooner-woodwind-sailing-schedule/ to learn more details and save money on international travel.
Accommodations Specials Annapolis Accommodations Annapolis Activities & Events Annapolis Boating & Fishing Annapolis Discounts & Deals Annapolis Family & Children Annapolis Things to Do Articles Downtown Annapolis Restaurant Specials Annapolis, Annapolis Hotels, Annapolis Restaurants, Annapolis Things to Do, Annapolis Waterfront, Downtown