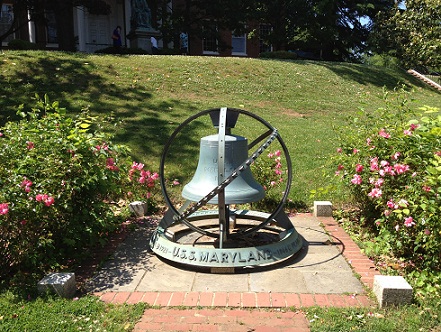 State Circle is a wheel of rotating fun and history, right in downtown Annapolis. The circle itself houses very historic landmarks, like Maryland State House and the Office of the Governor. Even still, these landmarks offer their best to the public, along with the other establishments along State Circle.
To start, here's a special that belongs in all the following categories: free valet service courtesy of eCruisers! You've probably heard the buzz and seen these trolley-like vehicles zipping around downtown. Park anywhere in Annapolis (make sure you pay for parking though!), call eCruisers, and get valet treatment! Call dispatch at 443-481-2422 or 443-497-4769 to take advantage of this free service on any outing.
Play
It's true that the nature of a deal or special requires it to be out of the ordinary. However, we think it's fairly special and extraordinary that such a significant, functioning building as the Maryland State House allows the public to view its art and historical walls. The beautiful brick mansion is open for public tours every day from 9 a.m. to 5 p.m., with the exception of Christmas Day and New Year's Day. The best part? Tours are free, although donations are greatly appreciated. To maintain the safety of the public and those inside Maryland State House, photo IDs are required and guests must pass through metal detectors. There are also guided tours available; call 410-260-6445. You can't miss the State House, but just in case you're testing out GPS, the House is located at 100 State Circle.
The artwork at Maryland Federation of Art belongs to the "Shop" section, but the joys of viewing artsy exhibits qualify as "Play." Situated at 18 State Circle, the non-profit gallery offers year-round exhibits, shows, and special events. Presently, there two exhibits open, but Maryland Federation rotates exhibits often. As far as special events, the gallery partners with Annapolis Subaru on October 28 to host "Collector's Choice," an event that rewards every attendee with an original piece of art. Artist members donate the same amount of artwork as the number of people who will attend, allowing all to take home a prize. The event begins at Annapolis Subaru at 5:30 p.m. and ends around 8:30 p.m. Wild Orchid, Piccola Roma, Belair Produce, Chart House, and many other fantastic area restaurants cater the event. Call 410-268-4566 to learn more. Admission is $185. Go to the site's calendar to learn about upcoming events: http://www.mdfedart.com/index.php
Stay
Since Annapolis has so much to do and see, it's advantageous of visitors to stay a few nights. It's extra smart to book a hotel or inn near downtown. Lucky for you, Historic Inns of Annapolis offers three historic and comfortable downtown places to stay while visiting: The Maryland Inn, Governor Calvert House, and Robert Johnson House. These favored spots offer specials too! Book with Historic Inns for two nights and receive $15% off; book three nights and get 20% off; or stay four nights and receive 25% off their best rate. Or, take advantage of the "Bed & Breakfast Package" with a luxury room, breakfast in Treaty of Paris Restaurant, and the price of $119 per night. The above package is only valid through the end of Summer–book now before summer evaporates with the heat! Other specials at Historic Inns include the Maryland resident rate, which saves MD residents 10% on their stay, and the advance purchase rate, which awards 15% savings to those who book at least 21 days prior to their stay. Head to http://www.historicinnsofannapolis.com/annapolis-hotel-special.aspx if you'd like to know more and book a room or two.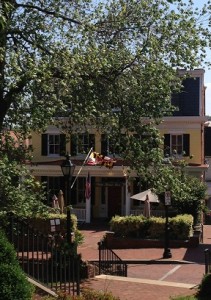 Most likely, you've walked by a lovely pale yellow house that's both quaint and historical on State Circle. There's a little alleyway next to the house that places those who travel on it right on Main Street. On the porch of the house, a Maryland flag wavers about on one side and on the other, an American flag waves. There are cast iron chairs and umbrellas on the brick veranda that offer guests a view of Maryland State House. If this isn't enough to jog your memory, I'm referring to The State House Inn. Of course, the lovely inn also owns the Italian restaurant Piccola Roma on Main Street, however the inn itself is enticing. The inn offers a luxurious "Romance Package" that includes sparkling Prosecco, a jacuzzi in the room, a bouquet and rose petals, delicious appetizers, entrees, and dessert courtesy of the restaurant, and pampering on-site by Atami's Day Spa. Call 410-990-0024 to reserve your day of indulgence with a special somebody. As a side note, the inn also offers some pet-friendly rooms. Visit their site, http://www.statehouseinn.com/index.php to learn more about the locally-owned beauty.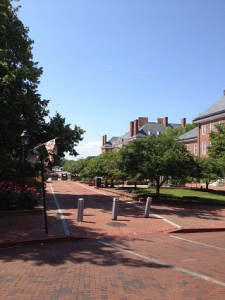 Dine
You knew eventually we would get to the "Dine" section, and so it begins with Harry Browne's at 66 State Circle. The beloved elegant restaurant offers typical bar and grill food, but also serves brunch specialties and treasured wines. As all smart eateries do, Harry Browne's caters to the frugal crowd with happy hour specials. Harry Browne's happy hour runs from Monday to Friday, 4 to 7 p.m. Selected appetizers are half price and in addition, there are drink specials. Thursday and Friday see raw bar specials, with deals on oysters, shrimp, and clams during happy hour. Also on Friday, the restaurant hosts a $5 burger special during happy hour. Monday and Tuesday, they offer a succulent lobster dinner from 4 to 7 p.m.
Harry Browne's supplies Annapolis with another way to save money and enjoy good food! Simply join their email club and receive $10 off bottle of wine with the purchase of two entrees. Go to http://www.harrybrownes.com/ to obtain your coupon for vino savings!
Shop
The pottery craze took over Annapolis in 1969 when The Annapolis Pottery opened shop on 40 State Circle. Along with staff, the husband and wife owners offer a range of styles, shapes, colors, and even USNA and Maryland crab designs. The shop almost always features sales on anything from jewelry bowls to platters on a table in the front. You'll see the table by the register; check it out next time you're in for some savings on original art with a function! Call 410-268-6153 or go to http://www.annapolispottery.com/index.html to learn about featured artsits and more.
Accommodations Specials Annapolis Accommodations Annapolis Activities & Events Annapolis Discounts & Deals Annapolis History Annapolis Restaurants & Bars Annapolis Shopping Annapolis Things to Do Articles Downtown Annapolis Maryland Avenue Restaurant Specials Activities, Annapolis, Annapolis Accommodations, Annapolis Hotels, Annapolis Restaurants, Annapolis Shopping, Annapolis Things to Do, Downtown