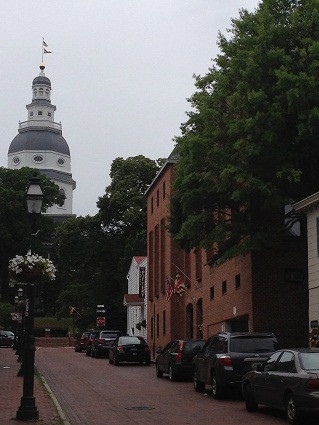 Annapolis prides itself on the history and intriguing stores it offers to visitors and residents. State Circle and Maryland Avenue not only connect geographically but supply history and modern-day excitement through shops, lodging, and eateries downtown. The depth of these destinations parallel the richness of its retail, dining, and entertainment industries–explore State Circle and Maryland Avenue today!
History
When hiking, reaching the top is always the most desirable and rewarding outcome. Likewise, when planning a home for the capitol building of Annapolis, only the highest peak of downtown would do. This was the thought of Governor Francis Nicholson in the late 17th century while mapping the great city of Annapolis. The State House stands as the capitol on the border of State Circle, and is the most prominent view of downtown for lucky visitors coming off Rowe Boulevard. The State House is the oldest American capitol still in use today, offering Annapolitan residents and State House employees something to boast about.
State Circle connects to several streets that house businesses, but none as numerous and perfect for shoppers and diners as Maryland Avenue. Therefore, it isn't surprising this street was one of the most desirable residential areas downtown during the 18th century. Some of Annapolis' most memorable men built vast mansions along Maryland Avenue–Matthias Hammond (Hammond-Harwood House), Thomas Bordley (Bordley-Randall House), and Samuel Chase (Chase-Lloyd House). Maryland Avenue served as a gateway to Naval Academy grounds upon the academy's establishment and still serves as such today.
Shops & Such
The popularity of Maryland Avenue and State Circle prove a testament to the brilliant planning of early Annapolitans and its marvelous history. Today, visitors and residents are treated to a multitude of shops that sell anything from art to gifts for pets. If you're looking to visit Annapolis for the first time or just want to stroll through history while window-shopping, stop at some of the stores cataloged below.
Evergreen Antiques: Owned by a long time Annapolis fan, this shop proves history is valuable, just like the street it sits on does. You can find anything from trinkets to furniture displayed beautifully in the store. Visit them at 69 Maryland Avenue. Call 410-216-9067 for inquires.
Audubon and Friends: This art gallery features an elegant mix of glass sculptures, hand-crafted pieces, nature prints, and bird-themed art. Peruse the art for yourself at 48 Maryland Avenue. Call 410-263-6759 or visit http://www.audubonandfriends.com/Audubon_and_Friends/Welcome.html to learn more.
Annebeth's: Select the perfect gift for a friend from Annebeth's gourmet foods, wine, gift baskets, and films. The eclectic blend of food and gift makes Annebeth's ideal for hungry shoppers who still want to share the love with others. The store is located at 75 Maryland Avenue. Contact them at 410-990-9700 or http://www.annebeths.com/.
Galway Bay: This Irish pub has been recognized by locals and the nation for its stellar home-cooked food. When the topic is food, there's only so much words can do–visit them at 61 Maryland Avenue. Call 410-263-8333 or visit http://www.galwaybaymd.com/. Happy hour deals carry from 3 to 6:30 p.m. Monday through Friday.
Harry Browne's: This Annapolis favorite was born out of a classic setting and comforting yet elegant food. Happy Hour specials run from 4 to 7 p.m. Monday through Friday. Treat a special friend to a remarkable dinner at 66 State Circle. Call 410-263-4332 to make reservations. See them on the web at http://www.harrybrownes.com/.
Paws Pet Boutique: Thanks to the pet-friendly revolution in the city, Annapolitan pets are accustomed to star treatment and now require somewhere to shop. Paws Pet Boutique is a treasure trove for all things pampered animal: adorned collars, fancy eating bowls, and homemade treats. Let your pet lead you straight to 64 State Circle. Paws Pet Boutique's number is 410-263-8683. Visit their site too: http://www.pawspetboutique.com/.
Peake House: Find the perfect piece for that pesky empty corner in the house at Peake House. Decorate with Annapolitan class by purchasing one of the many house accessories the shop offers. Seek out your style inspiration at 76 Maryland Avenue. Phone 410-280-0410 to learn more.
The Annapolis Bookstore: Set at 35 Maryland Avenue, this long-established shop supports the adage that adventure lies within the pages of a book. Scope out new titles or thumb through old ones. Call 410-280-2339.
The Annapolis Pottery: Never have natural materials shaped so nicely to create the oh-so popular pottery there. Choose from Maryland crab and USNA designs to colors of early morning skies. The shop sits at 40 State Circle. Call 410-268-6153 or search http://www.annapolispottery.com/ to learn more.
State House Inn Hotel: Quaint, Victorian, comfortable, accommodating, and locally-owned all properly describe State House Inn Hotel. Complete with dining on the deck or in their restaurant Piccola Roma, this seven room inn is ideal for visitors. Call 410-990-0024 or visit http://www.statehouseinn.com/ to learn about the lodgings at 25 State Circle.
Parking
Though parking can be a bit tricky in the city, State Circle and Maryland Avenue are near several parking options. City Dock offers ample parking for $1-$2 per hour and is right around the corner from State Circle and Maryland Avenue. Gott's Garage is nearer to Church Circle but allows visitors to park all day for $12. Noah Hillman Parking Garage is right off Main Street and Northwest Street, putting it in close proximity to Maryland Avenue and State Circle. Park all day for $16. For other tips on parking to visit these destinations, refer to http://www.annapolis.com/parking-pride-annapolis/.
Annapolis Accommodations Annapolis History Annapolis Restaurants & Bars Annapolis Shopping Annapolis Things to Do Articles Downtown Annapolis Maryland Avenue Annapolis, Annapolis Accommodations, Annapolis Restaurants, Annapolis Shopping, Downtown, Maryland Avenue