By: Ami Reist on December 14th, 2010
Looking for something to do in Annapolis this week? Here are a few suggestions for the week of December 19th through December 26th. It's time for the holidays in Annapolis! Enjoy yourself and have a great time with you friends and family!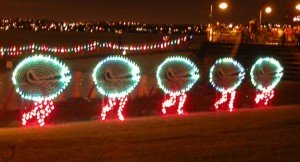 The ultimate holiday party is happening at Wild Willy's of Annapolis! Come hang out and have a spiced drink at the bar or try some tasty items on the menu. Rock out to the sounds of Hyjinx live. The band starts at 9:30 pm. Walk on the Wild side on December 18th from 9:30 pm to December 19th at 1:30 am. Wild Willy's is located on Somerville Road in Annapolis.
The Ballet Theatre of Maryland presents The Nutcracker at the Maryland Hall for the Creative Arts all weekend long! Clara's adventures help her favorite Nutcracker beat the evil Rat Queen in a dreamland on stage for an audience to enjoy. The show is scheduled on December 19th from 1 to 3 pm with another showing from 4:30 to 6:30 pm. The Maryland Hall for the Creative Arts is located at 801 Chase Street in Annapolis. Children can meet the Nutcracker characters, get autographs, pose for pictures, and enjoy some festive snacks.
It's ladies night this Tuesday, December 21st, at Brique, where they host a Girl's Night Out for those ladies who love sipping wine during a night out on the town with their friends. During Girl's Night Out, from 5 to 9 pm, ladies can enjoy half off of all appetizers and a complimentary bottle of red or white house wine. Brique focuses on American and French cuisine and has an extensive wine collection at their wine bar. The average entrée cost is between $10-$15. This upscale-chic dining destination offers the freshest seasonal and local ingredients available. Brique is located at 122 N. Commerce Street in historic Centerville, MD.
The Navy Men's Basketball team will take on Elon at Alumni Hall this week. The game is scheduled for Wednesday, December 22nd at 7 pm. It's Holiday Hoopla Family Night! Each family will get 4 tickets, 4 hot dogs, and 4 drinks for only $24. Tickets can be purchased at the Alumni Hall Box Office. Ticket prices at $8 for adults, $4 for youth ages 18 and under. Call 1-800-US4-NAVY for tickets. Go Navy!
Tired of the same old karaoke scene? Join Wild Willy's of Annapolis for their Rockstar Karaoke night. This is your chance to sing with alive band! You pick a sing, and the band will play it. Karaoke night is Thursday, December 23rd. Singing starts at 7:30 pm. You can compete for awesome prizes or even cash. Go ahead, show the crowd what you've got!
The Lights on the Bay Illumination at Sandy Point State Park will be open all week until January 2nd. Check out the glistening 2-mile drive-through spectacle of holiday lights. The show benefits the Anne Arundel Medical Center and features more than 60 holiday lights displays. Some favorite illuminations include dinosaur lights, the winter fairy tale set, and anything Maryland themed. An entrance fee of $14 is collected before you may enter. Lights on the Bay is open from 5 to 10 pm nightly.
The Giving Tree at Greater South River Animal Hospital will be providing an opportunity to give back to the community this holiday season. The Animal Hospital will have a decorated tree with a "wish list" of items that local shelters are in desperate need of. You may select an item to donate to a shelter from the wish list. On Christmas Eve, the collected gifts will be delivered to the local animal shelters. You will receive a nice Christmas as a keepsake for participating in the event. The Giving Tree is located at 125 Mayo Road in Edgewater, MD. You may visit the tree now through Christmas Eve.
The Seuss Sculpture Garden, and many other cool holiday shows, open at the Gaylord National Resort and Convention Center this week! The Seuss Sculpture Garden features 5 of the most beloved Dr. Seuss characters immortalized in bronze. The 4 to 6 foot statues are on display throughout the lush and beautiful indoor atrium. The exhibit, showcasing The Cat in the Hat, The Grinch, Sam I Am, Yertle the Turtle, and Lorax, has been traveling the world since 1997 and is currently at the atrium. Admission is free for the Seuss Sculpture Garden. The atrium will come to life at 6 pm as the Tree Lighting Show takes place! The delightful show lights up, plays music, and includes a dramatic fountain water show. If you're in the atrium at just the right time, around 6:15 and 9:15 pm, you'll think you're seeing snow… Even though it's always 72 degrees inside the atrium, a delightful indoor flurry occurs twice each night. Go to the Gaylord National Resort and Convention Center located at 201 Waterfront Street in National Harbor, MD and see their beautiful holiday showcase this week, open now and continuing for the rest of the holiday season. The show opens at 8:30 am and continues until 9:30 pm.
Merry Christmas & Happy Holidays, Annapolis!
Annapolis Activities & Events Annapolis Family & Children Annapolis Restaurants & Bars Annapolis Things to Do Articles Annapolis, Annapolis Things to Do, Events, Holidays, Maryland, MD