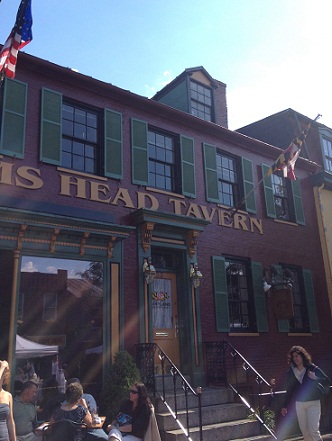 West Street in Annapolis hosts a bounty of tasty restaurants, unique shops, and museums–all of which offer incredible deals. If you haven't been out there yet, clear your schedule for a day and spend time exploring your town.
Dine
West End Grill, located at 2049 West Street, not only is the prime spot for devouring a succulent burger and hanging out with friends, but also can save you money. Who doesn't want a little extra change with their meal? The first way you save with West End Grill is through happy hour specials, which run from 3:30 to 6:30 daily. Get 50% off appetizers and drinks at a discounted rate. Aside from happy hour, most nights of the week involve money saving fun as well. For instance, on Tuesdays at 10 p.m., join open mic night with Dave Hill and the prime rib that sells for $12. Wednesday, it's Charm City Trivia night from 8 p.m. on. Thursday, we're back to saving money: half price wine by the bottle. Also on Wednesday and Sunday nights, enjoy 35% off all drinks from 9 p.m. to closing time. When football season rolls around, get game day specials like $2 domestic bottles and drafts and $3 premium bottles and drafts. To accompany the game day drink deals, football fans eat potato skins, fried macaroni and cheese, nachos, hot dogs with chips, gourmet pizza, and sliders for $4 a piece. Of course, specials are subject to change, so check their site often: http://westendgrillannapolis.netfirms.com/homepage.html.
The Whiskey at 1803 West Street could go in the "Play" section of this guide thanks to its live music and jamming deals. Even still, the happy hour deals are great too! From Tuesday to Friday, all drinks are two for one. Happy hour runs from 4 to 7 p.m. It looks like The Whiskey hosts rock bands most nights except Monday–perfect for listening in after happy hour! Ticket prices are around $8 for each show; acquire them on http://www.thewhiskeyannapolis.com/ and check out upcoming musical acts.
Paul's Homewood Cafe at 919 West Street features food specials every night of the week, like mussels and clams in white wine sauce and ahi tuna. For the early eaters, Paul's offers dinner specials from 4 to 6 p.m. Monday through Friday. Talk with friends over $5 appetizers, $5 glasses of wine, $4 craft beers, and an $18 three-course meal. For divine food at a divine price, head to Paul's. Here's the site: http://www.paulscafe-annapolis.com/.
Adding a little diversity into the mix never hurts! India's Restaurant at 257 West Street serves Indian delicacies (spicy and not) all day long, but also serves a buffet lunch for those new to the ethnic genre. The buffet is open from 11:30 a.m. to 2:30 p.m. everyday. Try out something new–you might be pleasantly surprised! Look to http://indiasofannapolis.com/ to learn about their menu.
Want more diversity? Try out Asian cuisine at its finest with Lemongrass on West Street, across from O'Callaghan Hotel. Bring a buddy and attend happy hour for specials like $5 appetizers, $5 wine, $5 signature cocktails, and $3 beers. Happy hour on Sunday goes from 4 to 5:30 p.m.; Monday to Thursday, happy hour is 5 to 6:30 p.m. Go to http://www.kapowgroup.com/ to find out more. This website will also show you Metropolitan Kitchen and Lounge, owned by the same people who bring you Lemongrass and Tsunami. Metropolitan is also on West Street and has a fantastic happy hour from 4 to 6 p.m. on Tuesday, Thursday, and Friday. Find Metropolitan at 169 West Street. Bring your laptop and plan to be there all day.
On the brick streets of West Street downtown lays an Annapolis gem known as Ram's Head Tavern. This not only satisfies the need for something historic and aesthetically pleasing, but also conquers hunger. Ram's Head Tavern updates their site daily (http://www.ramsheadtavern.com/annapolis/index.html) with food specials, that range anywhere from terriyaki tuna to thai chicken. Their site also explains the musical line-up to accompany happy hour, which runs from 4 to 7 p.m. on weekdays. On certain nights like tonight, diners get a free bratwurst with German potato salad from 5 to 7 p.m. Regular happy hour deals include $2.75 draft beers, house wine, and rail drinks.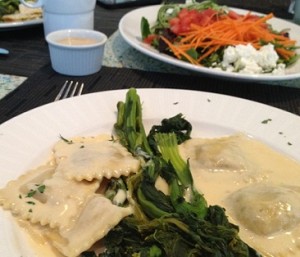 Think hotels are just a place to place your head before you embark on a journey in the morning? Wrong; specifically with the range of gorgeous, convenient, comfortable hotels in Annapolis, it's easy to dine, play, and stay all in one. The O'Callaghan Hotel on West Street encourages guests to stay for more than just the night with the happy hour specials in John Barry Restaurant. There are specials seven days a week from 4 to 7 p.m., like $4 appetizers and $1 discount on all cocktails, wines, and draft beers. Follow http://www.ocallaghanhotels-us.com/ and let The O'Callaghan prove that hotels consist of much more than a bed.
The Westin supports the idea that hotels offer an experience, not just an overnight stay as well. In their restaurant, Azure, Chef James Barrett educates on the science of ice cream through demonstrations. Guests at The Westin are encouraged to attend Chef Barrett's demonstrations all summer long. Attendees also get a sweet treat–liquid nitrogen ice cream! Book your stay at The Westin over a Tuesday night and learn from Chef Barrett from 6 to 7:30 p.m.
The Westin's Azure also hosts a time to unwind–Monday through Thursday, from 5 to 8 p.m. Relax in the contemporary restaurant with $5 snacks and peruse over nightly food specials like smoked chicken tacos with avocado, pico de gallo, and sour cream. Azure knows it's often advantageous to involve drinks while unwinding, so they've supplied diners with drink specials too. House wines are $5, domestic beers are $3, and cocktails are $5. Head to http://www.westinannapolis.com/ to book a stay and learn more.
Stay
The ever classy Loews Hotel on West Street certainly meets the standard for luxury and comfort, but did you know it also is incredibly affordable too? With the hotel's packages, nearly anyone can have a taste of the Loews! "Social Summer" rewards those who book two rooms with 50% off the third room. In addition, enjoy $25 to spend on drinks and food per day. There is also free parking and a free movie for reclining in the room after a long day of socializing. The offer ends September 3.
Here's another of the many deals at Loews: book any suite in hotel and receive free access to the fitness center and $50 credit for food and drink per day. This offer is valid until 2013 rolls around.
Deal number three at Loews Hotel awards those who book three nights or more with 20% off the whole stay. With this deal, you must arrive between Thursday and Saturday.
"Woofie Weekends" showcases the pet-friendly side of Annapolis, but also allows beloved pets a dose of luxury! Accommodations include one night for the pet and owner(s), including a pet meal delivered to the room, a pet bed, and bowl to drink from. The best part? The pet cleaning fee is waived! This package of fun with fido ends December 31.
The fifth special offer from Loews is for those who indulge in late, lazy mornings. With the "Bed and Breakfast" package, guests receive a credit of $25 per person to spend on a delicious, hot breakfast at Loews.This package ends December 30 and would make a great Christmas gift, hint hint.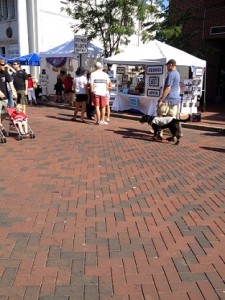 This next special from Loews is best for corporate travelers and road trip lovers. When you stay at Loews, you receive credit toward your next stay: 1 night gets you a $25 credit, 2 nights earns $50, etc. The credits you accrue can be used to grab croissants at the hotel's breakfast, or drinks later at night. To learn about the terms and conditions, head to http://www.loewshotels.com/blog/2012/01/new-tasty-credits-promotion-offers-25-per-night-for-culinary-treats-and-beverages-at-loews-hotels.
We've reached the end of the Loews' packages with "Key to the City" package. This deal is just as marvelous as the rest, except it gets you free valet parking, accommodations in a Loews deluxe room, and discounts at participating boutiques selected by the concierge. This package ends in December 2013. For additional information on any of these enticing packages, contact http://www.loewshotels.com/en/Annapolis-Hotel/specials.
Play
Moving closer to downtown, the Banneker-Douglass Museum advocates the importance of history by offering guided tours. Tours are 1.5 hours and cost $25 per 30 attendees. Tours can be scheduled throughout the year, but the museum requests two weeks to plan the tour. If you'd like to roam the museum on your own, the admission is free. Head to http://www.bdmuseum.com/index.html to learn more about this historical landmark.
Accommodations Specials Annapolis Accommodations Annapolis Activities & Events Annapolis Discounts & Deals Annapolis History Annapolis Restaurants & Bars Annapolis Things to Do Articles Downtown Annapolis Restaurant Specials West Street Activities, Annapolis, Annapolis Restaurants, Dining, Downtown, West Street