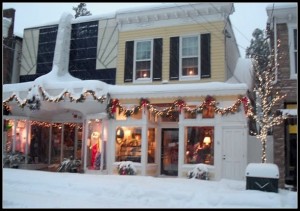 December is a fantastic month to visit Annapolis, MD and indulge in a variety of seasonal activities and attractions.
One can stroll along the thriving Annapolis Waterfront, search for unique gift items in the Maryland Street shopping district, or explore some of the city's famous museums or historical home sites dating back to the 1800s and earlier. If one is celebrating the holidays, you can join in the spirit of the season while listening to a holiday concert or viewing the Eastport Yacht Club Parade of Lights, a boat parade around the Annapolis waterfront. Great viewing can be had from either the Eastport side of the harbor or the City Dock area.
Annapolis Events in December:
Midnight Madness
A favorite tradition of both visitors and tourists, the yearly Midnight Madness shopping event is held on the first two Thursdays in December from 6 pm. until the clock strikes midnight. During these hours, the stores of the downtown Annapolis shopping district become part of a festive block party style event that welcomes everyone who chooses to participate. One can enjoy shopping, musical performances, refreshments and holiday cheer while finding the bargains of a lifetime.
Gingerbread Parade of Homes Competition
Sponsored by HistoryQuest, the Gingerbread Homes Contest runs from December 1st to December 5th–although the houses are on display until New Years Day–and visitors as well as local residents can cast their vote for their favorite gingerbread home. Baked by professional chefs, these gingerbread houses are a sight to behold, and celebrity judges announce first, second and third place winners in the professional category on December 5. The People's Choice awards are announced at a raffle luncheon on December 19th. The proceeds of the raffle benefit the Eastport Girls Club and the Annapolis Historic Foundation.

Handel's Messiah Concert
Each year in early December at the Annapolis Naval Academy, visitors can enjoy performances by the USNA Glee Club, Annapolis Symphony Orchestra, and the Hood College Choir. Honoring a long-term tradition, the Annapolis Symphony Orchestra joins soloists from the Metropolitan Opera Company, and the USNA Glee Club to perform selected pieces from Handel's world renown Messiah. Conducted by USNA Director of Choral Activities, this sophisticated and timeless event has been broadcast nationwide on a wide variety of public television stations.

Eastport Yacht Club Parade of Lights
On the second Saturday of December, visitors and residents can enjoy the Eastport Yacht Club Lights Parade held at the Annapolis City Harbor. This parade of lights is a thoroughly enjoyable experience for the young and old alike, where spectators can view numerous boats, which are decorated with thousands of colored lights. The watercraft is manned by festive revelers which suddenly appear out of the dark winter night to provide enjoyable entertainment for all who choose to attend.
Shopping and Dining
Those looking for additional things to do in Annapolis should not forget the simple pleasures such as shopping and dining. Those searching for Annapolis Restaurants offering quality fare may wish to visit the Canton. Originally, known as the New Canton, this family-owned restaurant offers American and Chinese cuisine to tempt any pallet, and their menu features a wide variety of choices for lunch and dinner, as well as a generous children's menu. Those who prefer Italian food will want to dine at the Bella Italian bistro. Regarded by some as the best pizza in Annapolis, the Bella Italian restaurant offers excellent food, reasonable prices, and convenient, free parking close to the Annapolis Naval Academy.
Those interested in Annapolis shopping may choose to visit the Westfield Annapolis Mall, where one has a choice of over 200 stores in which to search for bargains, including Nordstrom, Lord and Taylor, and Macy's.
For those who prefer specialty shopping such as antique browsing or nautical themed attire may wish to visit the Maryland Avenue shopping district. At Johnson's on the Avenue, one can purchase Men's and women's classic naval and yachting apparel, unique gifts, swords, and accessories. Those interested in antiques will not want to miss a visit to the Then and Again Antiques store, a long established Antique retailer located in the center of the Annapolis shopping district.
Annapolis Hotels
Those looking for quality accommodations in the Annapolis, MD area will want to consider choosing the Westin Annapolis, one of the newest additions to the myriad of hotel options from which one can choose. Its refreshing European decor is original and distinguished, and features over 200 rooms designed with ultimate comfort in mind. In addition, the rooms' ergonomic desk chairs and heavenly beds offer an original touch. The Loews Annapolis Hotel is the closest hotel on West Street to Church Circle and offers 4-star accommodations and a fine dining in their beautiful restaurant, The Breeze. Those traveling on a budget may also wish to consider the Best Western Annapolis located a few miles from the waterfront, or the SpringHill Suites, which is conveniently situated a mere two miles from downtown Annapolis.