By Amanda Stark
With a pinch of history, a dash of contemporary life, and a finishing touch of briny, crisp air, Annapolis gives tourists and locals alike a taste of both culture and cookery. The state capital offers some of Maryland's finest seafood restaurants and crab houses. Here's where you can feast on Maryland's prized cuisine when crab season rolls around: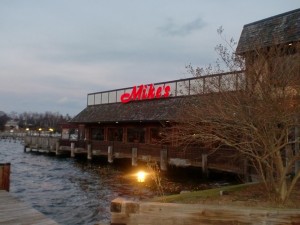 Mike's Crab House – 3030 Riva Road, Riva, Md., 21140. (410) 956-2784. Mike's  rests right along the bank of the South River and offers a casual dining atmosphere with a scenic river view. Because Mike's can be reached via boat, hungry guests can dock their vessels for free while they dine. Mike's also has a full bar, with over 20 flat-screen televisions and a private dining room available for large events, accommodating up to 180 people. Attached to the restaurant is Mike's very own country store, which offers deli and prepared foods, fishing equipment, beer and wine, and other convenience store items. Mike's hours of operation are Sunday – Saturday, from 11:00 a.m. to 10:30 p.m. http://www.mikescrabhouse.com/index.php.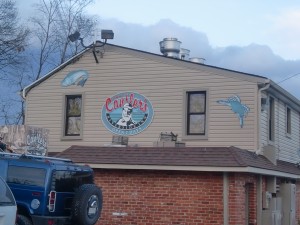 Cantler's Riverside Inn – 458 Forest Beach Road, Annapolis, Md., 21401. (410) 757-1311. Cantler's is a bit hidden, but worth the trek. Situated on the water, the popular restaurant features family-friendly waterfront dining, both indoors and out. Cantler's is open Sunday-Thursday 11:00 a.m. to 11:00 p.m., and Friday-Saturday 11:00 a.m. to midnight. http://www.cantlers.com/index.shtml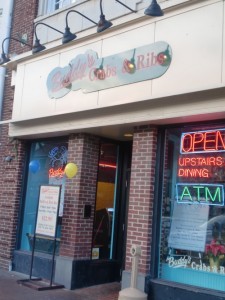 Buddy's Crabs and Ribs – 100 Main Street, Annapolis, Md., 21401. (410) 626-1100. Buddy's looks unassuming from the outside, but inside it is nothing less than impressive. This family-owned and operated establishment is just a short walk from the historic Annapolis waterfront, and serves its guests in its enormous second-floor dining room, with vast windows overlooking Annapolis' water inlet. They offer guests free validated parking for up to 2 hours. Also, for those hosting events, Buddy's provides catering services and accommodations for large parties. A family-friendly crab house, Buddy's lays out an all-you-can-eat buffet, which is available throughout the day, and children under 10 eat for free. Buddy's is open Monday-Friday 11:30 a.m. to 9:00 p.m., Saturday 11:00 a.m. to 9:00 p.m., and Sunday 8:30 a.m. to 1:30 p.m. http://buddysonline.com/.
Thursday's Steak and Crab House – 4851 Riverside Drive, Galesville, Md., 20765. (410) 867-7200. Thursday's is a cozy crab house with a modest, laid-back atmosphere located beside the waters of the Chesapeake Bay. The large outdoor deck seats many eager customers, and the dock has room enough for 27 boats. Thursday's serves its steamed crabs between mid-April and late August. The restaurant is complete with a full bar, offering weekday specials and happy hour specials. Thursday's hours of operation are Sunday – Saturday, 11:00 a.m. to 10:00 p.m. http://www.thursdaysrestaurant.com/index.html.
Cheshire Crab House – 1701 Poplar Ridge Road, Pasadena, Md., 21122. (410) 360-2220. The ever so colorful Cheshire Crab is located at Pleasure Cover Marina and Club. With a stunning view of the Bay and the sound of gentle waves in the background, guests can enjoy live music and entertainment dining al fresco or indoor. The menu features unique dishes like seafood nachos and "Crab Lover Sampler" for the seafood fanatics. Cheshire Crab is open Tuesday-Sunday with varying hours. http://www.cheshirecrab.com/.
Fat Boy's Crab Shack – 1581 Defense Highway, Gambrills, Md., 21054. (410) 721-5252. Fat Boy's has a large outdoor dining deck where customers can sit after placing their orders at the counter located inside the restaurant, adjacent to the full bar. This casual dine-in system allows guests to dine at their leisure, and their food is brought out to the customer's table upon its completion in the kitchen. Fat Boy's steamed crabs are available for dine-in or carryout. The restaurant is open daily, 12 p.m. to 1 a.m. http://www.fatboyscrabshack.com/.
Stevensville Crab Shack – 116 Pier One Road, Stevensville, Md., 21666. (410) 604-2722. Stevensville Crab Shack has a spectacular view of the Chesapeake Bay Bridge from the restaurant. The chef prepares homemade seafood platters, and its fresh seafood can be shipped nationwide. Stevensville Crab Shack also offers catering services for various events. It is open Monday-Saturday, 11 a.m. to 8 p.m. and Sunday, 11:30 a.m. to 8 p.m. http://www.stevensvillecrabshack.com/.
So How Do You Eat These Things Anyway?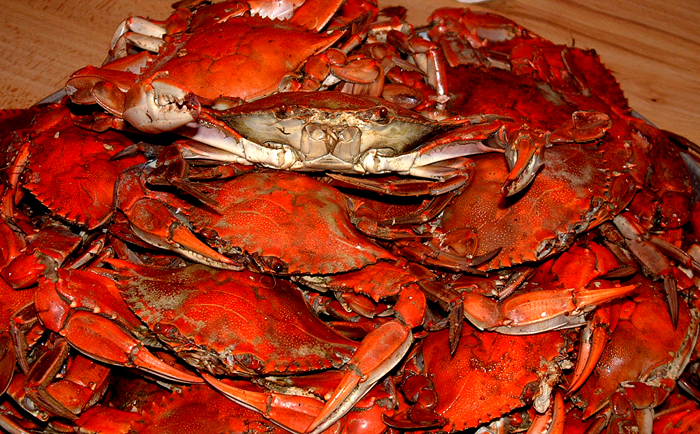 Inspired by http://skipjack.net/le_shore/crab/picking_index.htm
A true Marylander is well-versed in the art of eating and picking crabs. Blue crabs are fruitfully abundant in the Chesapeake Bay, providing Maryland locals with a never-ending supply of these tasty crustaceans. Should a visitor to the Old Line State dare feast on the local delicacy, he would be wise to learn how to do so from an expert. Here are a few steps to properly eat a crab, the Maryland way:
1. Prepare your table: Line the table, a glass table not recommended for this gathering, with several layers of newspapers or brown grocery bags. Have plenty of paper towels, steak knives, and wooden mallets on hand. Also, some folks enjoy dipping their crabmeat in malt vinegar or clarified butter (as done with lobster meat), so have these condiments available as well. Crabs and beer are a classic combination; so, don't forget to quench your guests' thirst with some ice-cold beer, perhaps National Bohemian or Clipper City to keep the Maryland theme alive.
2. Select a crab and remove its claws: Remove the large pinchers claws and set aside for later. Twist off the back legs and set aside for later.
3. Remove the apron: Turn the crab over to that the bottom is facing up. Insert the tip of your knife into the small flap of the apron closest you, and in a backward motion, pull the apron up to remove the top hard shell.
4. Separate the top shell from the body: Stick your knife between the body and the top hard shell and use your hands to aid the knife in separating the body of the crab from its top outer shell. Set the shell aside and make sure the crab is turned back over so that the gills are facing upward.
5. Remove the non-edible insides: With your knife, scrape away the grey gills, squiggly looking intestines, and yellow sea mustard, and discard into the top shell you just removed in the previous step.
6. Dig out the meat: Break the body in half, and using your knife, dig into the nooks and crannies to pick out the plump, juicy crabmeat.
7. Claws: Separate the pinchers by pulling the loose "thumb" away from the claw, and rip out that piece, as crabmeat will come with it. To crack open the rest of the claw, place your knife blade on top of the middle of the claw and bang it with your wooden mallet. Use your knife to scrape out any crabmeat inside waiting to be eaten.
8. Enjoy!