"West" can mean a lot of things; it's a direction, last name, and the new restaurant at Loews Hotel in Annapolis, which is ironically enough on West Street. However, this multi-meaning word also notes of a place in Annapolis, appropriately named West Annapolis, where shopping is ample, day spas flourish, and the residents who live there count their blessings every day. Though heavy-hitters like downtown and the Naval Academy get most of the traffic, West Annapolis is not to be overlooked. Below, you'll find out more about this prized gem that's right off Rowe Boulevard.
History
Just like the rest of the city, West Annapolis boasts of an interesting history. Of course, what we think of as West Annapolis today has always been there, but it wasn't until the 50s that West Annapolis became an official part of the city. As is usually the case, West Annapolis was at one time, much larger but has since become smaller. Even still, the hair salons, art shops, gift stores, and residents in the community think it's the perfect size. In fact, West Annapolis even constructed their own form of representation via West Annapolis Business Affiliation, Inc. West Annapolis Business Affiliation's website extensively tells of West Annapolis' history; read about it here: http://www.westannapolisbusiness.org/index.html.
Shops and Such
West Annapolis is an amalgamation of residences, retail, and businesses. As far as residences go, happy neighbors populate Shiley Street, Melvin Avenue, Monterey Avenue, Claude Street and a few others. The streets are set up in nearly perfectly square boxes, which can be seen on a map.
Restaurants, retail stores, and healthcare stores are where West Annapolis shine for those who don't live there.
Annapolis Day Spa Boutique at 703 Giddings Ave, Suite L-5 offers incredibly elegant bridal hair updos, manicures, spray tans, and even champagne and snacks on the wedding day. For those who need not wait for a wedding to pamper themselves, the spa/salon does massages, skin care treatments, hair cuts, pedicures, manicures, waxing, and spa packages. Visit their site to learn more and even book an appointment: http://www.annapolisspa.com/#/home/.
Halo–A Color Salon, completely embraces the idea that hair care is better in a relaxed, hip, and friendly salon. The staff is cool, the owner is stylish, and the hairstyles that come out of the salon are unbelievably beautiful. The shop at 12 Annapolis Street does bridal hair, color, cuts, and special hair treatments like Keratin and intense conditioning. See photos of their work at http://www.halocolorsalon.com/.
Annapolis Formal & Tuxedo is the ideal place to turn for weddings, prom, and other occasions that require something a bit more fancy than that little black dress. Set at 11 Annapolis Street in Unit B, the formal dress store is easy to locate and perfect for brides on this side of the Bay Bridge. View their site, http://www.annapolisformal.com, or see them in-store.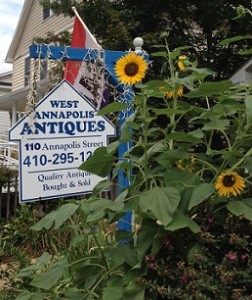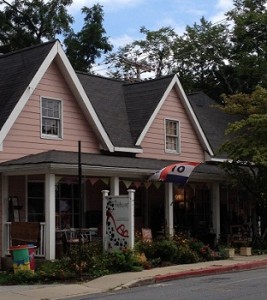 Pris' Paper, another artsy store, sits at 24 Annapolis Street. Let Pris' help you craft lovely wedding invitations, fine gifts, monograms, shower invitations, and more. Remember, an invitation is the first impression your party makes. See their site: http://www.prispaper.com/.
Art Things, Inc. has existed as a staple in not only West Annapolis, but also in the art community for over forty years. The store is jam-packed with artsy everything, from greeting cards to mold making supplies. I challenge you to think of an art project that the staff and supplies at Art Things can't help you create. Art Things, Inc. is located at 2 Annapolis Street. Head to their website to learn about all the supplies they carry: http://www.artthingsinc.com/.
Regina's Restaurant, a locally-owned German/Chesapeake-style restaurant, is located at 26 Annapolis Street. The restaurant proudly serves from four menus: breakfast, lunch, dinner, and Oktoberfest. Pick up German dishes like "Chicken Schnitwich" or choose Maryland favorites such as "Jumbo Lump Crab Cake Sandwich." To tease your taste buds further, head to the website and view their food photos: http://www.reginasrestaurant.net/reginas/Welcome.html.
Bon Vivant Antiques and Period Furnishings recognizes that a luxurious yet comfortable home leads to a better outlook. The store at 104 Annapolis Street offers crystal, glass, dinnerware, furniture, linens, vintage lighting, rugs, silverware, pottery, and more. Furnish your home with beauty. Here's the web link: http://www.bonvivantantiques.com/default.cfm.
Green Pedals gladly wheeled its way onto the green bandwagon (pun intended). This store at 105 B Annapolis Street is all about providing the public with ways to green ways to get around: electric bikes, electric scooters, electric skateboards, and beach cruiser bikes. If you find the image of you on a bike a bit intimidating, rent a bike from Green Pedals. The shop also does repairs. Head to http://www.green-pedals.com/index.html to learn more.
Businesses in West Annapolis include everything from dentistry to construction.
West Annapolis Family Dentistry is located at 101 Ridgely Avenue. Their site prouds shows off all the smiles they've created: http://www.westannapolisfamilydentistry.com/.
Annapolis Chiropractic Associates is located at 107 Ridgely Avenue in Suite 11. The premise surrounding this business is simple: walk in with a bad back and walk out feeling like one million bucks. Take advantage of the massage therapy and other professional services. Visit their site to make an appointment: http://www.annapolischiro.com/.
Franch & Smith, P.A. handle legal matters beautifully. The legal buffs have an office at 107 Ridgely Avenue in Suite 9. Learn more about their practice at www.fjbslaw.com.
Jack Martin Insurance is one of the most visible businesses in West Annapolis from Rowe Boulevard. Right at 111 Forbes Street, the business offers top of the line insurance. Go to their site to learn more: www.askjack.cc.
Lynbrook of Annapolis is committed to exquisite designs in an efficient timeframe. The fine residential construction company is located at 4 Annapolis Street. View their site, www.lynbrookofannapolis.com and see what they can do for you.
Though the businesses and companies detailed above are some of the best, they are by no means the only ones. West Annapolis is ripe with more retail stores, salons, and services. Who knows, perhaps next time you head toward downtown, you'll take a detour and see what West Annapolis is all about for yourself.