This weekend in Annapolis is chockfull of the arts. And sure, typically the arts do not include delicious drinks and satisfying food, but with the music events scheduled at Annapolis restaurants, why not drink, eat, and be merry? Of course, there are other events like that of a children's production, plays, and art boutiques, that are guaranteed to be fun and interesting. It will undoubtedly be cold this weekend, so grab your favorite hot drink and get to the festivities! 'Tis the season to start things off fun.
Music and Performances: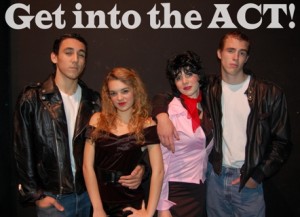 The Children's Theatre of Annapolis is showing Grease: The School Version January 6 at 7:30, January 7 at 2 & 7:30, and January 8 at 2. Though for the parents, this show will certainly be different from the original with John Travolta and Olivia Newton John, Grease: The School Version will allow children to see the musical classic in a way they can understand. Surely, young children actors will portray Frenchie and her cohorts in a new, unconventional way. This production is fun for kids and parents alike! Check out childrenstheatreofannapolis.org for other shows and questions.
The Bay Theatre Company, Inc. puts on their much talked about play, Becky's New Car on January 6th, 7th, and 8th at 8 p.m. The play has already been running since December 2nd, but if you haven't had the chance to see this ironic comedy, you better plan to see it this weekend before it ends. Steven Dietz, the playwright, has constructed other acclaimed plays, and this production is no less in substance and entertainment than its predecessors. The production details the qualities of human nature as the play's lead, Becky Foster, finds herself falling for a wealthy, suave man while unintentionally conveying that her husband who is alive, is dead. Full of ironic twists and real-life scenarios, this performance is relatable to all who attend. The play runs over two hours long with an intermission. The Bay Theatre Company is located at 275 West St., Annapolis. Call 410-268-1333 for questions or visit baythreatre.org. Don't miss out on the laughs!
Colonial Players of Annapolis opens their Cinderella Waltz January 6th at 8 p.m. and continues it this weekend on Saturday at 8 p.m. and Sunday at 2 p.m. The production takes the classic tale of Cinderella and carries it through questioning whether Cinderella's decision at the end was right. Though the author wants his audience to ponder, don't let the question of morality fool you. The play is comedic and will undoubtedly leave its audience laughing about the playwright's mixture of the classic Disney tale and Shakespeare's King Lear. Though children most likely will recognize the name Cinderella, the play does contain adult themes and language, so leave the kids with a sitter to watch the animated version of Cinderella. The theater is located at 108 East Street in Annapolis. Check out their website thecolonialplayers.org or call 410-268-7373 for information.
Restaurant Fun:
Drinks and music are always a delightful combination, and this weekend at 49 West Coffeehouse, the two

blend together yet again. On Friday, the Red Wine Trio plays from 8-11 p.m. On Saturday night, 49 West hosts Gary Wright-Leah Weiss Band as part of their American Roots Night in their back room. On Sunday, Greg Martins plays pop-rock music from 2-4 p.m. Each of the days has a $10 cover charge, but don't forget to bring money for coffee and drinks too! There is also an art exhibition this weekend at 49 West, so make sure to study the walls while listening to music. As their namesake suggests, 49 West Coffeehouse is at 49 West Street in Annapolis. Reservations are suggested; call 410-626-9796.
Fado Irish Pub & Restaurant at #7 One Park Place in Annapolis is also featuring a weekend of drinks and music. On Friday, there is Celtic music to enjoy and water dance to, and on Saturday, DJ Ray will be at Fado, mixing beats to popular music. Both events are scheduled for 10 p.m. Call 410-626-0069 for info. Throw on your favorite green shirt and have a good time!
Arty Excitement: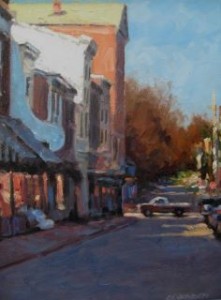 Was your New Year's resolution to collect beautiful pieces of hand-crafted art? If so, you won't want to miss the Winter Artisan Boutique that is open again this weekend. Though it started in November, the event will end this month, so it's pertinent to visit West Annapolis Art Works soon. What's more, the store is closed Sunday, so lovers-of-the-arts must visit their store on 4 Annapolis Street this weekend. Friday and Saturday hours are 10 a.m. to 5 p.m. I'll give four more words that will surely entice you: mosaics, pottery, jewelry, paintings. Christmas may be over, but why not get started on gifts for the next Christmas? Call (410) 295-7045 for information on this event and other upcoming events.