Annapolis Government Services
Office of the Mayor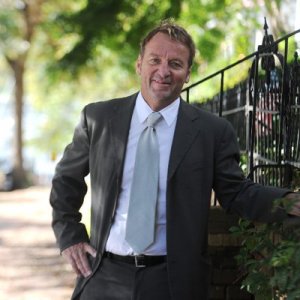 Mayor Gavin Buckley
Gavin Buckley became the 137th Mayor of Annapolis in November of 2017. Mayor Buckley's goal is to bring together business owners, community leaders, and residents to develop innovative ideas and economic opportunities for Main Street, Maryland Ave, West Annapolis and all parts of the city.
Born on February 8, 1963 in Boksburg, South Africa, Gavin was raised in Perth, Australia by his single mother, Pauline. He attended Belmont City College located in Australia's southwest coastal area near the Indian Ocean. Gavin worked his way across the world after departing Perth in 1984 after he dropped anchor in Spa Creek in 1992 with only $200 in his pocket, fell in love with Annapolis for its unique blend of history, maritime culture, and small-town friendliness, and fell in love again when he met future wife, Annapolis local Julie Williams. They married in 1997 and together they are now raising two children, Dash & Miles.
From his first job as a server at Middleton Tavern, Gavin showed the vision and entrepreneurial spirit for which he is so well known. He quickly learned the basics of business, raised capital, and navigated bureaucracy to open Annapolis' first coffee shop, The Moon, in 1993.
Gavin is committed to preserving the historic character of Annapolis with leadership and vision to ensure it remains a dynamic, living city. This is why he challenged and defeated the City's plan to demolish 100-year-old homes on West Street to make way for an 800-car garage. This area is now the West Village Precinct – a flourishing hub for local businesses, residents, and visitors.
Gavin imagines an inclusive city, full of opportunities for all citizens as part of his One Annapolis vision. He is committed to our shared community and our shared future. His vision is for a vibrant, sustainable, and inclusive Annapolis with infrastructure, services, and events that make it a wonderful place to work and live for all.
For more information on the office of the Mayor, including the Idea Team, the Transition Team, budget, and the Mayor's official blog, visit ci.annapolis.md.us.
Trash Pick-up & Recycling
Refuse must be placed in a closed container with a maximum capacity of 32 gallons according to the City Code. The maximum weight of the filled container must not exceed 50 pounds.
For recycling to be picked up, you must use an "Annapolis Recycles" blue bin that is provided by the City. The bins are provided free by the Public Works Department located at 145 Gorman Street on the 2nd floor. You can also pick them up at the Operations Center located at 935 Spa Rd. between the hours of 8:30am and 4:30pm weekdays, except on holidays. Taller bins are only available at the Operations Center.
For more information on bulk pickup, Christmas trees, e-Cycling, leaf collection, and more, visit ci.annapolis.md.us.
To look up your route number and schedule for trash pick-up and recycling click here.
Police & Fire
Annapolis Police Department
The Chief of Police in Annapolis is Scott Baker. The Annapolis police department employs 131 full-time, sworn officers and 87 civilians according to 2008 numbers provided by the City. The police force protects more than 36,000 residents in an area of 7.2 square miles, and last year responded to more than 42,000 calls for service. In the police department's 2009 Annual Report, Chief Pristoop notes that crime in 2009 was reduced by 36% due to the hard work and dedication of the Annapolis police force.
Useful Links:
Annapolis Fire Department
The Fire Chief in Annapolis is David L. Stokes Sr. The Annapolis fire department responds to all types of emergencies including: fire suppression, emergency medical services (EMS), hazardous materials, rescue, and bomb squad services. The Annapolis fire department consists of three engine companies, two truck companies, and three advance life support paramedic units.
Useful Links: