When it comes to Annapolis Hotels, you have almost unlimited options for how and where you stay. There are hotels, beds and breakfasts, inns, and even Boatels – boats on the water where you can bunk for one night or longer. You can pick a stationary boat where you can dine and sleep in nautical style and never leave the dock. You can also go out on a boat and spend the weekend exploring the Chesapeake Bay.
Check out the hotel options below and craft your own Annapolis, Maryland vacation. Just click on your favorites and you can book your rooms at your chosen Annapolis hotel.
Featured Hotels in Annapolis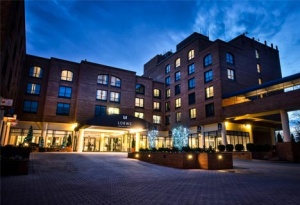 This Downtown hotel is less than one mile from the Naval Academy and just a mile from Navy-Marine Corps Memorial Stadium. The rooms are staid and modern and include free WiFi, armchairs and desks with ergonomic chairs, as well as 47-inch flat-screen TVs and Keurig coffeemakers. Some suites include living rooms and pull-out sofas, others include dining areas. Room service is available from the on-premise restaurant and bar. Amenities include a 24/7 business center and the 24/7 gym.
Downtown Annapolis Hotels
Downtown Annapolis, Maryland offers hotels, inns and B&Bs that are all within walking distance of Gate 1 of the US Naval Academy. If you are planning to attend one of Navy's football games or other sports contests being held in the Navy Marine Corps Memorial Stadium, the Westin is the best hotel from which to walk. The Annapolis Marriott Waterfront Hotel is the ONLY true hotel located on Annapolis' harbor. If you are coming for a concert at Ram's Head, the Loews Annapolis Hotel and the O'Callaghan are both within walking distance. The Historic Inns of Annapolis give you the ability to step back in time and enjoy Colonial buildings with 21st Century amenities. Your options are almost endless when it comes to staying in Annapolis. Explore the options below to find your perfect stay.
Riva Road & Outer West Street Hotels
If you want to save a little money and you don't mind taking a shuttle or driving into downtown Annapolis, then the many hotel options located in West Street extended and off of Riva Road are worth a try. There are many recognized hotels in this area near the Annapolis Mall and the Annapolis Towne Center. These hotels are also convenient if you are coming to Annapolis for meetings with one of the many high-tech or other businesses located on Riva Road.