A plaque on the downstairs wall of Rams Head Tavern in downtown Annapolis once read, "On October 25, 1997 at Table 6…the plot was hatched which led to the succession and glorious independence of the Maritime Republic of Eastport." The plaque might no longer be there, but the rich historic legacy of 33 West Street, which dates back to before Annapolis was even officially founded, remains.
In order to fully understand the Rams Head story we must go back in time. Way back. In 1703 a brewer from England by the name of Benjamin Fordham was given a charter by Queen Anne and traveled across the Atlantic to open a brewery in the New World. His voyage brought him up the Chesapeake Bay and he settled in a bustling port city that would eventually become Annapolis (in the same spot where William Paca would one day build his famed gardens). Fordham set up shop and began brewing his beer on a daily basis, and, before too long, his recipes became a big hit with merchants, craftsmen, sailors, and politicians traveling in and out of the nearby harbor as they made their way up and down the eastern seaboard. Fordham eventually moved on from the Annapolis location, but the brewery's roots remained and would play a key role in the re-establishing of the Fordham Brewing Company nearly 300 years later.
During the 1700s, the property at 33 West Street, where Rams Head is currently located, was owned by the St. Anne's Parish, but it was leased to William Reynolds- a hatter, dry goods salesmen, and venture capitalist who also owned a number of other properties in the downtown area (including 7 Church Circle where Reynolds Tavern stands today). In 1769, Reynolds subleased the building to Samuel Chase- an Associate Justice of the Supreme Court who served 20 years on the Maryland General Assembly and was one of the Maryland representatives to sign the United States Constitution. Chase was also a close friend and confidant of another famous Annapolis figure, William Paca. Paca, a lawyer turned Declaration of Independence signer turned governor, is perhaps best known for his five-part Georgian style mansion in Downtown Annapolis that is now a registered national landmark.
After Chase's lease, 33 West Street was taken over by William Faris and turned into a clock and silversmith shop called the 'Crown and Dial.' Ironically, Faris' gardens at the Crown and Dial are said to have been a big inspiration on William Paca and heavily influenced his design and construction of the Paca House property.
In 1794, the present day Rams Head Tavern was occupied by an entertainment house called, "Sign of the Green Tree." It was around then that the ghost of a girl named Amy is said to have made her first appearance in the building. Legend has it that Amy was an 18th Century prostitute whose ghost has inhabited 33 West Street ever since. Next time you're enjoying dinner or a show at Rams Head, ask about the tale of Amy and check out her bedpost, which has been preserved for centuries.
Throughout the course of the next few hundred years Annapolis blossomed into an influential center for culture and politics and 33 West Street remained a mainstay that served generations of Annapolitans and visitors conducting business and pleasure in Maryland's capital city. In that time period, the building housed several businesses, including a brief stint as an inn, but for the majority of its existence it was operated as a tavern.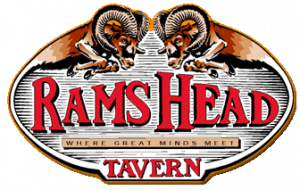 Fast forward to December 1989 when Bill and Paula Muehlhauser bought the Rams Head Tavern from previous owners. At the time, Rams Head had a mere 30 inside seats with only 10 on the patio and 5 full time employees. It offered 100 beers from around the world and the only food available for hungry patrons was build-your-own sandwich option.
It didn't take long, however, for the new proprietors of the historic property to begin building their own legacy. A full service restaurant was added and business began to take off rather quickly, causing the Muehlhauser's to purchase the adjacent West Street Dry Cleaners in 1992 to meet the demand for more bar space. Rams Head was expanded again the following year as the adjoining barber shop was added to increase capacity even more.
Rams Head was on the rise during the mid-90s, just as things came full circle for another Annapolis original. In September 1995 the Fordham Brewing Company reopened in an old bank on West Street. The modern day brewing operation paid homage to its roots by making fresh beer daily, much of which was sold down the street at Rams Head Tavern. Fordham's combination of both traditional and contemporary brewing techniques became widely popular and even resulted in Baltimore Magazine recognizing it for having the 'Best Local Lager.' As fate would have it, however, Fordham's stay in Annapolis was once again cut short as the brewery was relocated in November 2003 to a brand new facility capable of producing 50,000 barrels of beer per year in Dover, Delaware.
So ended the saga of Fordham Brewing in Annapolis, but the Rams Head story was just getting started. Driven by the success of the original location, Rams Head opened the accompanying Rams Head On Stage in 1997, which rapidly took off as Annapolis' premier music venue. Rams Head On Stage continues to draw the top local, regional, and national recording acts, making it one of the biggest music destinations in the area.
With business booming as the new millennium approached, the Rams Head team looked to capitalize and expanded its empire across the region throughout the 2000s. The second Rams Head location was actually opened in July 1999 in Savage, Md. To this day, Rams Head Tavern Savage Mill remains the largest operation in the Rams Head family, offering 4 floors and an array of dining options.
Rams Head Tavern Savage Mill may be the largest operation, but it's far from the only one. Rams Head Roadhouse opened in April 2004 between Annapolis and Crownsville. Differing slightly in concept from the West Street location, Rams Head Roadhouse has a menu featuring over 30 sandwiches and pizza; however, you will still find over 100 beers available for your drinking pleasure.
Looking back at the legacy of Rams Head, 2004 proves to be a landmark year. Not only did the Roadhouse open in April, but 2004 also marked the launch of Rams Head Live as the featured venue inside Baltimore's Power Plant Live. This 21,000 sq. ft. venue boasts a 120 seat tavern, 3 food stations, and performances by the top regional and national recording acts, creating an entertainment experience like no other that consistently sees the Rams Head Live ranked as one of the Top 50 entertainment facilities in the entire world.
In 2006, the Rams Head brand ventured across the bay to Kent Island as the Rams Head Shore House was opened that October. The Rams Head Shore House provides a unique, relaxing environment in its 180 seat restaurant while the tavern remains lively with pool tables, live entertainment, and Rams Head's famous happy hour.
The following year was another big one for Team Rams Head as another location was opened in Terminal C of BWI airport in December. Also in 2007, Rams Head Productions took over the booking and operations at Pier 6 Pavilion on Baltimore's Inner Harbor. The open-air venue has a capacity of 4200 and hosts the county's top musical acts from April through October.
There is no telling where the next Rams Head will pop up, but the savvy management team is always on the lookout for opportunities to grow the brand. In the meantime, a trip to the original location in Annapolis is a must for any food, beer, music lover, or history lover.