As the boats from the United States Yacht company's annual powerboat show chug chug chug off into the sunset and the City of Annapolis recovers from two of the largest boat shows of their kind in the world, it's just about time to reap the benefits of this season by scaring yourself or someone you love silly.
It just follows naturally, doesn't it? There are plenty of ways to do that, although we don't suggest most of them, because honestly how are you going to get an elephant up that high in the first place and in the second, the costume is more "silly" than "scary." Perhaps the previous sentence didn't make a whole lot of sense to you — and that's good — but for the three people it speaks to it's life changing. Trust us.
The more traditional approach probably gets the balance better than any do-it-yourselfer, likely for insurance reasons alone. Besides, there are plenty of haunted houses, hayrides, ghost tours and the like to keep you busy up until Halloween itself. Most of them are open on weekends at least, and if you're going to try to hit a couple this is a good weekend to start.
Halloween Happening – Haunted Barn & Hayride
Anne Arundel County Fairgrounds — Open weekends: Fri. – Sat. 7-10 p.m.; Sun. 7-9 p.m.
Free parking, food and snacks and kids 6 and under get in free. This is the 22nd year for this event at the fairgrounds, organized by volunteers for a non-profit dedicated to improving fairgrounds facilities. Adult admission $13.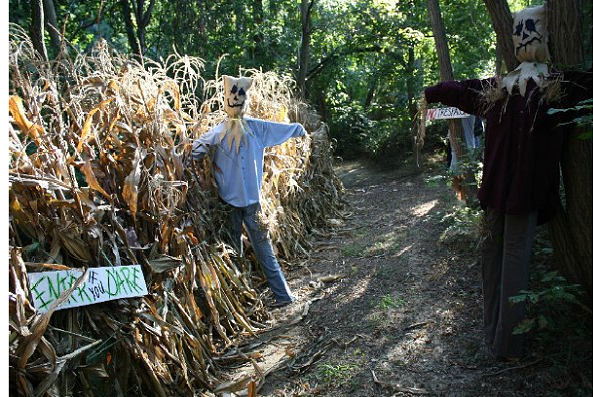 Heidi's Haunted Hills
Edgewater, MD — Open weekends 7-10 p.m.
Admission is $15 per person but they knock $2 off if you bring a can of food to donate to the Friends of the Food Bank. This one is not recommended for smaller children unless they are hardy, according to their website. Better take them at their word because you don't want to mess around with this kind of thing. Also, as this is a walk in the woods don't wear high heels or flip flops.
Wicked Woods
Glen Burnie, MD — Open 7:30 – 11 p.m.
This one has a couple different levels of terror. Or slightly spooky stuff for the kid's maze. There are a total of three trails: Edals Valley Asylum (admission $10), Syngaro's Sinister circus (admission $8) and the Wee Kid's Maze (admission $4 – Parents free with paid kid and free readmission) there's a combo deal on trails 1 and 2 for $15.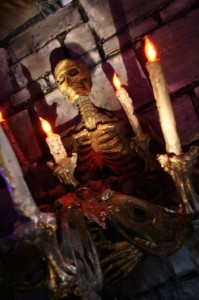 Bennett's Curse
Jessup, MD — Open Thurs. 7-10 p.m.; Fri. 7-11 p.m.; Sat. 7-11 p.m.; Sun 7-10 p.m.
This one is a little more expensive at $25 base price on Thurs. and Sun. and $30 on Fri. and Sat. on either night you can drop an additional $10 for the "Speed Pass" option that skips the line. Since this haunted house has been featured in Reader's Digest, on MSN and Travel Channel, it seems the extra money is worth it. Featuring three haunted houses with elaborate backstories, Bennett's is one to watch.
2011 Haunted Ghost Tour
Departs from 77 Main St. Annapolis — Open Fri. and Sat. 7:30 p.m.
The Haunted Ghost tour explores the William Paca House for about an hour and a half. Adult admission is $20 and kids 3-11 are $14. Apparently people were hung to save room in local jails and there's someone called the Gravedigger kicking about. Can't see how that might upset a spirit. No siree.
That ought to be more than enough to scare someone who is asking to be scared, but will the horror stop there? Probably not! Seriously, this Halloween thing is just ramping up.