Need a quick review? Scroll to the bottom for the essentials.
It was a lazy Saturday; the kind where even the thought of cooking makes you more lazy. I had exerted minimal effort for breakfast–yogurt and fruit–but could not maintain such a sloth-like manner for lunch. Soon enough, noon rolled around and it was time to make lunch plans. Annapolis had so many restaurants (and too many when you're hungry), but I couldn't compute the overabundance of choices. I just wanted a good sandwich that wasn't too pricey. Perhaps a little cafe would do the trick. After twenty minutes of lolly-gagging while halfway searching Google for Annapolis restaurants, I came across Main Ingredient.
Main Ingredient is situated in a strip of other restaurants and catering businesses on a busy road. The storefront windows remind diners inside that they are enjoying thoughtful food in a quaint cafe and not outside amidst the chaos. The cafe/restaurant/catering business feels like a homey cafe in a fast-paced city–just what I wanted that lazy Saturday.
Now that we have the vibe down, let's talk food. It wouldn't be talking too boldly if I said Main Ingredient perfects lite fare–it really does. Their menu boasts anything from tropical salads to crab cakes to pad thai. The prices are comparable, but at Main Ingredient, you pay for quality and quantity. The salads are massive, the meat dishes are packed with various meats, and some of the dishes even come with muffins or baked good from the kitchen. There are dishes for vegetarians and carnivores, health-eaters and those who indulge, big appetites and small appetites. All the food is fresh and colorful, which is such a delight to see and well-suited for the upcoming spring season.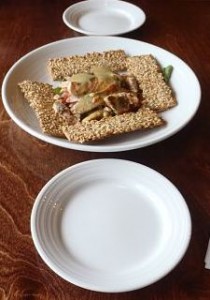 As aforementioned, I was enthusiastic about eating a fabulous sandwich. After seated by our kind waitress, a friend and I looked over the extensive menu. Sunlight from the large windows shone on our booth and suddenly, I wanted an appetizer. I had heard that the Hungarian Mushroom Soup is fabulous, but out of my extreme dislike for mushrooms, my friend and I settled on Applewood Smoked Salmon for an appetizer. (I know you're thinking, "appetizer for lunch?" but the weekend requires a little indulgence.) The salmon was smoked in-house and served in chunks on the platter along with capers, lettuce, diced tomatoes and onions, and thin flat breads. The flat breads were peppered with all kinds of seeds and dried onion flakes, like an everything bagel. To get all the ingredients together in one bite, you assemble as shown in the picture (below). Essentially, you have to throw out mom's old adage about playing with food. The flavors of the salmon dish unified so beautifully, albeit uniquely. The sweet salmon was also drizzled with a honey mustard dill sauce, which paired exceptionally with the tangy capers. All in all, it was a fantastic appetizer. What's true of the entrees is also true of the appetizers–both are large in portion and scrumptious.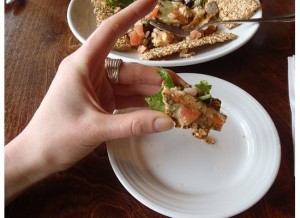 Hardly halfway through the appetizer, our waitress brought the lunches. Due to the sweetness of the salmon and its complexity of flavors, I resolved to order something with salmon for lunch. I decided on the cafe salad with smoked salmon nestled on top. It was all I expect in a salad: crisp, colorful greens, with sweet toppings and a savory dressing. Candied pecans, pears, gorgonzola cheese, and salmon mixed wonderfully with the maple champagne vinaigrette that came with the dish. The gorgonzola added just the right amount of saltiness to the sweet salad. It was so delicious that I forgot about my initial desire for a sandwich. I was pleasantly surprised to see a mini pumpkin muffin sitting next to my salad, too.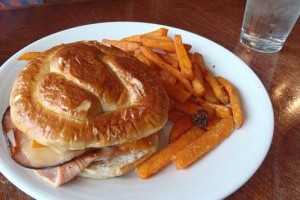 My friend did not fore go his desire for a sandwich. Though I'm not even remotely interested in turkey meat, the Hawaiian Club my friend ordered intrigued me. Served on a buttery pretzel roll (essentially, it's a flattened soft pretzel), the layers of turkey, cheddar, and grilled pineapple were all stuck together with honey mustard sauce. The sandwich was served warm, intensifying its flavors. If the humongous sandwich wasn't enough to fill him up, the side of sweet potato fries was. With the specialty sandwiches, diners can choose from a few sides: sweet potato fries, French fries, caesar salad, pasta salad, or garden salad. Main Ingredient also offers sides you can add or substitute, like: cheddar grit or sun-dried polenta, mashed potatoes or veggies, grilled asparagus, and cafe salad. These sides carry different prices, but are all fresh and healthy.
Once I had food in my stomach, I could finally observe my surroundings. The floor was hardwood and there were tables and booths diners gladly filled. At the end of the booths were coat hooks, a simple touch but big enough to show the care Main Ingredient put into its cafe. This little detail matches the service, too, which was fast but certainly not rushed. I could also tell the food was not pre-made, although it came out quickly. The bustling people came into the cafe and quickly filed into the bountiful seating. Behind a row of happy diners was a glass counter full of delicious treats and colorful cakes. If the cafe doesn't have what you're looking for on a certain day, you can make arrangements with their bakery. Main Ingredient's website (find address below) boasts the very long list of desserts they make.
After stealing a few of my friend's fries when he wasn't looking, I realized how fun it was just to sit and observe. A towering piece of chocolate cake went by. Women laughed by the desserts. Waitresses bused around with plates of lite fare. People came in and went out. It was such a relaxing atmosphere.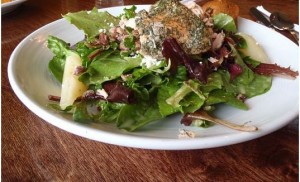 Perhaps the laid-back style coupled with the fantastic food is why Main Ingredient has won so many awards. Among these awards, "Best Caterer," "Best Breakfast," and "Best Overall Restaurant" stick out. Main Ingredient is also eco-friendly as it recycles waste, generates wind power, and purchases recycled paper products. The company has been in business for nearly two decades–plenty of time to have perfected their dishes. And indeed, they have. Try them out! I hear the smoked salmon is delicious…
Quick Review:
What: Main Ingredient
Where: 914 Bay Ridge Road, Annapolis, MD 21403
Who: A friend and I
Ordered: Applewood Smoked Salmon, Cafe Salad with Smoked Salmon, and Hawaiian Club
Cost: $33.87 (tip not included)
Dining Style: Comfortable cafe in a fast-paced city
Service: Quick and helpful
Contact Info: 410-626-0388; www.themainingredient.com
Rating: 5 stars and delicious
Need to impress your friends and family with a great spread but don't want the hassle? Or, need a wedding cake? Visit this web page: www.themainingredient.com/catering.