Evergreens have a special place in the heart of Mary Jo Murray, owner of the charming Evergreen Antiques located on 69 Maryland Avenue. Having grown up surrounded by woods and water in northern Michigan's Upper Peninsula, Murray has a passion for that which is green and living in nature, as well as for keeping alive the beauty found in things from the past. In keeping with the concept of "reduce, reuse, recycle", Murray's shop is a place where vintage and antique items can be rediscovered and relocated to a new home rather than be discarded.
As a child, Mary Jo spent a lot of time with her grandparents. She loved hearing their stories and learning the history of the treasures in their home. In the small town of Ishpeming, her family owned a small business, so this environment is one in which she feels at home. After graduating from Michigan State University, Mary Jo and her
husband moved to Maryland where they raised their three sons. Throughout that time, her love of enjoying, buying and selling old and interesting things evolved from a hobby to a profession.
In 2002, what had been Antiquity Perfection in downtown Annapolis became Evergreen Antiques. In Murray's mind, there could not be a more fitting location for her than historic Maryland Avenue.
"Part of my interest and commitment to Maryland Avenue has to do with its wonderful history and tradition," Murray said.
In the late 1900's, the avenue was known as Antiques Alley, and the businesses there were primarily antique shops. According to a Sanborn Fire Insurance Map printed in 1903, the neighboring businesses that are now Aurora Gallery and Evergreen Antiques were once one open space operating as a grocery store and butcher shop.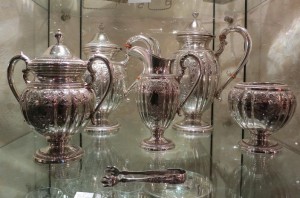 Today, Mary Jo is usually behind the counter or working around the shop. Her niece Kristen and other shop-keepers, Rodger and Betty Sue, also help run the store. Rodger is the resident expert on old bottles. Kristen can often be found wearing delightful vintage and antique jewelry from the store. Betty Sue helps keep the shop organized and people often stop by just to say hello to her!
Visitors and locals are always popping in to see what new and different things Mary Jo has found; furniture, silver, jewelry, art, pottery, and more. She brings in something new every day. Murray continues to practice one of the very first decisions she made as a shop-owner:
"I wanted to have the kind of shop I like to go to."
Murray notes that one of the items the shop has become known for are the Naval Academy Plates, first commissioned by the USNA Alumni Association in the 1930's and made by Spode and Wedgwood. The beautiful plates are very-much loved by United States Naval Academy graduates and families.
For example, a woman in Florida was just recently referred to Mary Jo by a naval commander. Her husband was a 1944 graduate and their plates really mattered to them. They wanted them to be sold where they would again matter to someone.
"This happens a lot", Mary Jo said, "Over the past ten years, we have sent them all over the country and have helped several families complete their sets."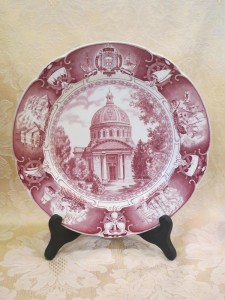 In other ways as well, her shop is very much a part of Annapolis. She leaves a phone number on the door so curious shoppers can call her anytime to inquire about something that caught their eye in the window as they explore the avenue after dinner at Galway Bay. A smile spreads across her face as she visits her good friend, Katherine Burke, at Annapolis Collection Gallery on West Street, and spots numerous items from Evergreen Antiques. If she has a question about a special lighter or pipe, she walks across the street to The Smoke Shop, where the employees are happy to share their expertise. When a customer needs an antique ring re-sized, Jeff at Niland Jewelry is just across the street.
"One of my favorite things," Mary Jo said, "is seeing how much people really enjoy and appreciate what we have in the shop."
The oldest treasure right now is a beautiful pianoforte built in 1786; a smaller, early version of the piano, the instrument for which Mozart or Beethoven would have composed their music. An intricate, hand-stitched quilt showcases the detail and hard work done before quilts were machine-made. Imagine that women could stitch such a work of art without the benefit of electric light; it can be seen, appreciated and used again because it is here to be re-discovered.
Just as Mary Jo's interest in antiques began as a child, she encourages the same in young visitors to her shop today.
"We like having children in the shop. There are so many wonderful and interesting things here," said Murray. "They should be able to touch them and ask questions about them; and they do."
Mary Jo makes it clear how grateful she is that she gets to do something she loves every day, and she wants to share that with the city of Annapolis. So, whether you are looking for a gift, a chandelier to tie the dining room together, or just browsing, make sure to stop in at Evergreen Antiques and pay Mary Jo Murray a visit.