There is a place in downtown Annapolis where the rules concerning wine have been greatly altered. When the rules changed, opportunities to better the setting, vibe, and food opened. Until the wine bar revolution started right in the heart of downtown Annapolis, many regarded wine as too fancy and even snobbish. The rules declared wine couldn't be accessible to all and certainly wouldn't work with live music and a laidback vibe. That is, until Lisa and Brian Bolter established Red Red Wine Bar at 189 Main Street, broke all the rules, and proved wine most definitely can be approachable, imbibed in a rock n' roll setting, and pairs beautifully with Bob Marley.
The history of Red Red Wine Bar is quite easy to relay, especially since it's only been serving fabulous wine in an unpretentious setting for barely a year. The owners, the Bolters, wanted to create a relaxed, approachable wine bar so they moved to Annapolis and set up shop. Both Brian and Lisa worked in the media and lived in Baltimore before transitioning nearer to Lisa's hometown of Pasadena. Though we're glad the Bolters are in Annapolis now, it was Baltimore that sparked their interest in wine bars. "We would go to wine bars in Baltimore and hang out," Lisa Bolter begins, "But not really feel that comfortable. Wine bars started out hoighty toighty and kind of snobbish, so we're trying to break through that barrier here." And indeed they have broken the barrier, or "rules" as I called them above. Red Red Wine Bar is kid-friendly, boasts rockstar/New Orleans decor, and serves wine not by the country of origin, but by the flavor profile. "I don't know about you but I just bypass French wines because I can't read them," Bolter laughs and throws up her hands tipped with red nails, "So we have wine in sections–sweet, bold, dry, and bright." Bolter explains this strategy allows guests to try wines they normally wouldn't. "If you like sweet wine, you're probably going to like all the wine in that section," she says. It seems the formula for a great wine bar is removing all the labels and pairings and simply tasting, which brings us to the next point: the food.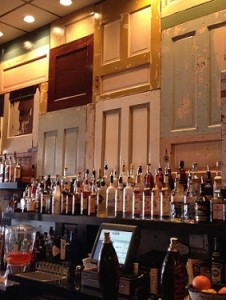 Abandoning the rules for pairings is another feature that makes Red Red Wine Bar unique. "If someone wants to have a Riesling with steak, then they can do that," Bolter says with assurance. She explains the servers are happy to make suggestions, but don't tell people what to order with certain wines. There are some pairings though, like cheese and wine, that make the perfect culinary marriage. Hence, the wine bar does offer a cheese board with an assortment of twelve artisan cheeses to drink with wine. Speaking of food, the full service kitchen also differentiates Red Red Wine Bar from the rest. Bolter explains a lot of wine bars serve tapas, or small plates, but their wine bar has a range of entrees, appetizers, and desserts. The reason for the bigger portions? "I like food," Bolter laughs, her genuineness shining through, "And so the menu began as my favorite foods." In addition to the hearty sized meals, all the sauces and some desserts are made in-house and much of the food is focused on local ingredients. There's pizza, paninis, and crab dip baked with a layer of smoked gouda on the menu–evidence that the Bolters may break rules surrounding traditional wine bars, but adhere to foodie standards.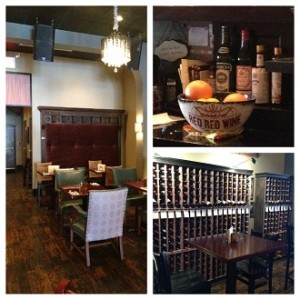 As I alluded to above, the setting/decor of Red Red Wine Bar separates it from the rest. The Bolters wanted a to open a wine bar because it stands somewhere between a pub and a fancy restaurant, and so they achieved it with the decor and style too. Dark wood floors line the wine bar, which match the wood shelves that hold Red Red Wine Bar's upwards of 130 wine bottles. The full service bar shows Red Red Wine Bar is inclusive and is prominent in the floor plan. Above the bar are painted and distressed doors cut to different sizes and arranged like a puzzle. The seating and tables are eclectic; you may dine on anything from a gigantic high-backed red bench to silver bar stools. There are pops of color throughout the wine bar, but it is mostly dark, creating an intimate setting. Televisions are mounted behind the bar and in various spots, suggesting to guests that they can have Chardonnay and a little football too. Bolter defines the decor as a mix between New Orleans, rockstar, and Victorian. I define it as just plain cool.
The premise that wine bars can be approachable proved true for Red Red Wine Bar. The wine bar is kid-friendly, and although Bolter says kids in wine bars is one of the "gray areas for people," plenty of Annapolitan families visit. Thanks to the kid menu and laidback vibe, parents bring kids in, set them up with an iPad, and enjoy wine with one another. "We have regular customers–locals–who do that. It's like a date day," Bolter exclaims. Almost on queue, one of her sons plopped into a chair near us. I imagine he will brag to his friends in years to come that he hung out at a wine bar as a kid. If the owners bring their own children there, it's safe to dub as kid-friendly. As a side note, there is outdoor seating that is pet-friendly.
Now, on to the best part: the wine. "Brian is our wine buyer and he's tried all the wines here," Bolter says of her husband with a chuckle, "Tough job, I know." Because the definition of a wine bar simply means there's a focus on wine, the standard for wine at Red Red Wine Bar returns again to the breaking of rules by the Bolters. "We grind on finding good wines at good price points because people don't want to spend more than thirty or forty dollars for a bottle of wine," Bolter says. While this does limit the number of local wines in the restaurant (local wineries charge more), there are over 45 wines by the glass available for purchase. Red Red Wine Bar also features wine flights, or a selection of three two ounce glasses of wine for adventurous guests to try. The servers mark what wine a guest likes on a card so next time, there's no question. The bar also features a wine tap with four wines, which makes it easy for overwhelmed customers to have less options and is better for Mother Earth. Kegging wine abolishes the foil, cork, and glass of about twenty wine bottles.
Lisa and Brian Bolter recognize the importance of getting a good deal, and as locals, recognize the value in the entertainment industry. It is for these reasons that Red Red Wine Bar offers wine tastings, Sunday brunch, live music, and happy hour specials. Sunday brunch features a healthy serving of New Orleans style food from 9 a.m. to 2 p.m. Wine tastings occur every Wednesday from 5 to 7 p.m. Because Annapolis prohibits free wine tastings, Red Red Wine Bar charges one penny. All the proceeds go to a local charity called Box of Rain. Happy hour specials run from 3 to 7 p.m. Monday through Friday. Deals include $5 red wine, white wine, sangria, appetizers, and rails, and $3 draft beer. The live entertainment is sporadic, but is updated on their site calendar often. Musical groups featured are typically local and belong to the indie/blues/rock genres. If you can't make it to the music shows, all the music from shows are up on Red Red Wine Bar's site: http://www.redredwinebar.com/.
Now that these wine fanatics have lived in Annapolis for five years and maintained Red Red Wine Bar for one year, the sky's the limit. The duo has a house near Ocean City and entertains the idea of opening another Red Red Wine Bar there. But for now, the Bolters have sights set on keeping what they've got–gourmet food, understandable menus, approachable wine, and a friendly, cool vibe.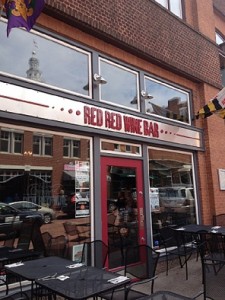 Take a hint from these Annapolitan winos–wine is nonconformist and approachable. It can be paired with the traditional cheese platter or fried plantains. As Bolter says, "There's no reason you can't combine things with wine that most people normally wouldn't." This theory can be broadened and applied to every aspect of life. Branch out and be unconventional. Who knows? You may change a few preconceived rules just like the Bolters.