The Children's Theatre of Annapolis, based in an old Navy missile site at 1661 Bay Head Road in Annapolis, hosts two full productions annually with casts of thirty to forty children. CTA is currently producing Get Smart, based on the 1960 spy series: "The show, under the direction of Jose de la Mar, centers around bungling secret agent Maxwell Smart, also known as Agent 86, played by Zachary Roth of Glen Burnie. His experienced female partner is Agent 99, with Meghan Dickey of Arnold in the role. Nick Brice of Annapolis takes on the role of 'Chief,' the long-suffering head of the spy agency named CONTROL, who is addressed simply as 'Chief.' The show is based on the plot of the first episode in the series, created by comedian Mel Brooks and adopted by Christopher Sergel."  SEE HOW YOU CAN WIN 4 FREE TICKETS AT THE END OF THE ARTICLE.
Children's Theatre of Annapolis recently performed the Alice in Wonderland, Jr.  Upcoming performances include Legally Blonde, which will run from January 11, 2013 to January 20th and Little Mermaid is set as the Spring performance: April 12-21, 2013.
On September 19, 2012 CTA was featured on Fox45 Hometown Hotspots for its outstanding work in the Annapolis/Baltimore area. CTA provides arts education for children ranging from 5 to 18 years old. Additionally, CTA offers the Miriam Wolfe Scholarship to graduating seniors in high school who participated in CTA, "The purpose of the scholarship is to encourage and recognize CTA high school seniors who will pursue an interest in the arts as a part of their continuing education in college."
The Children's Theatre of Annapolis was founded in 1959 as a means to provide children with access to the arts and give an education in the arts. It started small and grew slowly until it reached the enormous production it is today. Initial productions contained eight to fifteen children whereas current productions have thirty to forty actors. Today, CTA offers programs that "give each participant the opportunity to learn the basics of theatre, expand their imagination, develop voice, dance and performance techniques, and much more." These programs include:
Audition workshops: how to audition and get noticed
Workshops that focus on the development of the student-performer that end in a performance by the student
Special master classes presented by experts
Behind the Scenes training is given to all performance students
The Children's Theatre of Annapolis seeks volunteers and members. To join, email the executive producer Kathy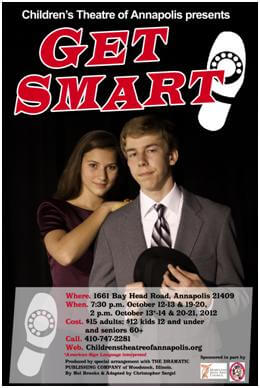 Swekel at childrenstheatre@verizon.net or call 410-757-2281
The Children's Theatre of Annapolis is located at: 1661 Bay Head Road Bay Head Park Annapolis, Maryland 21409
To register for a workshop, download and complete the Workshop Registration Form and mail it with the workshop fee to CTA, P.O. Box 1785, Annapolis, MD 21404.
To purchase CTA tickets, contact the CTA box office at 410-757-2281 or email the box-office at boxoffice@childrenstheatreofannapolis.org
To audition, go to http://www.childrenstheatreofannapolis.com/our-season/auditions/
To find out more about CTA, visit their website at http://www.childrenstheatreofannapolis.com/about/
HOW TO WIN:  Just go to Annapolis.com's facebook page and say you would like 4 free tickets to the Annapolis Children's Theatre's production of, Get Smart!
http://www.facebook.com/annapolismd We will draw the winner of these four tickets randomly from those that post that they would like to win the tickets on Thursday, October 18.  Good luck!