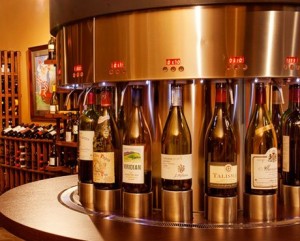 Crush is the only true wine bar in Annapolis that specializes in bringing affordable, premium and uncommon wines to their guests.
The owners of Crush, Bob Laggini and Janet Besanceney, created Crush Winehouse based on an Italian inspiration. They wanted the bar to be like the many wine bar scattered throughout Italy. European wine bars were the muse, the outstanding Crush was the outcome. The ambiance of the lounge is warm, intimate, and welcoming.
Crush is the only wine bar in Annapolis that offers retail sales of wines with a "try-before-you-buy" chance. How are you going to know if you like your wine or not without trying it? By allowing their customers to sample a wine before purchasing, the staff at Crush know that each guest will go home with a bottle they'll enjoy. Each wine selection at the bar is tasted and okayed by Bob and Janet before it's welcomed into their store.
Do you know what an Enomatic server is? An Enomatic server is a unique and affordable way to explore many different wines by the glass. The Crush Winehouse has one of these fancy dispensing systems in-house. The Crush Enomatic server was imported from Italy. When you go to Crush, try a premium ticket wine by the glass out of the Enomatic for a modest price.
The servers at Crush are knowledgeable and attentive. If you have any questions about a specific wine or a food pairing, just ask the staff. The chefs of Crush make wine-inspired cuisine choices that reflect each wine selection. Small plated meals enhance the Crush Winehouse tasting experience.
If you're looking for some great wine in Annapolis, be sure to go to the Crush Winehouse. Crush is open Tuesday through Thursday from 4 to 11 pm, Friday and Saturday from 4 pm until midnight, Sunday from 4 to 10 pm, and is closed on Mondays. Crush Winehouse is located at 114 West Street in Annapolis, MD.