The creature feature in Annapolis continues as the haunted holiday approaches ever nearer. Ever closer. Breathing on your neck. What's that? Spooks, specters or ghosts if the mythology holds up.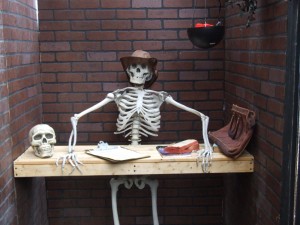 For those who like their Halloween drama on the reality TV side of things, there's a casting call for "My strange addiction," which we guess could be pretty much anything. You'll need a headshot (of course), name, age and all the other details if your addiction is on the stranger side of things. If you're selected they come to you so there's little travel involved. If you're selected to participate you'll get a medical or psychological consultation included. Just e-mail the details to chicacgocasting20@gmail.com. The casting call ends Nov. 1.
On the less intense side of events but probably a more intense intended result is the Pumpkin Patch at St. Martin's Lutheran Church open daily from noon to 6 p.m. weekdays and 10 a.m. until 6 p.m. weekends. The proceeds benefit the Light House homelessness prevention center. It runs until Halloween night.
PG Stadium is running Tulip Gulch's Psycho Safari on weekends from 6:30-11 p.m. until Oct. 31. This is the first year for the safari, but the 25th year for Tulip Gulch. So they have an idea of what they're doing. The good thing about this one is it's indoors, and the lines to get in are also under cover, so if a rainy weekend hits between now and the main event you can still have some spooky fun without getting soaked.
The Severna Park Community Center will be featuring the Haunted Holy Grounds this weekend only so get in while you still can. Hours are from 7-11 p.m. on Friday and Saturday, and 7-9 p.m. on Sunday. Dinner in the graveyard will be offered on Saturday night, but reservations are requested. Call 410-647-5843 x202 and ask for the King of Spiders. Chelonia Eco-Adventures will also be on site to offer a less ghoul-inspired form of entertainment. From 6:30-9 each night for $10 per child (under 3 free) you get to participate in their signature Creature Feature event.  The King of Spiders will know all about this event too, because he's the King. The King may be coy and pretend he doesn't know he's the King but don't let him fool you. The King may be correct in being a Queen. That's the exception, and will probably have to be the funniest correction I'd ever have to write.
Almost all of the events featured last week are still going strong as well, so don't feel any pressure to have to get everything in all at once. However, if being spooked is your goal then there are many quality options either across the street or just a few miles down the road.
They're not even here yet and already we feel like we're putting all the ghouls to bed already. But they never stay for long and that's oddly comforting. Every now and then we can feel them breathing on the backs of our necks. Just so. What's that?