For a slower time of year the action in Annapolis is really speeding up this week as the boat shows transition between two types of boats, Halloween horror ramps up, a neighborhood of 650+ throws a yard sale, and Bank of America holds a convention near D.C. to talk with mortgage holders.
The U.S. Sailboat show finished up on this past Sunday, and the work continues as the city prepares for the influx of Powerboats that are to follow. The Sailboats will have already paraded out, which is a sight to see if you were there, but not the crews of the U.S. Yacht Show, which runs both shows, have three days to prepare City Dock for the incoming inboard and outboard motors. Those boats powering their way in are another sight to see, so if you're near the docks early in the week try and catch a glimpse. The boaters sail out until next year on Sunday, so stop in if you plan to.
Thursday is also the Navy's birthday, so it's fittingly appropriate that the Powerboats are all over Annapolis during the big day. There's not a whole lot going on around town to celebrate officially, but if you're personnel keep your ID handy because some local shops will be offering deals. It seems West Street is where the party's at for the Navy. The shops that way are offering a variety of blue-and-gold themed drinks, sweets and goodies. Look for shop owners to be decked out in their blue-and-gold best as well.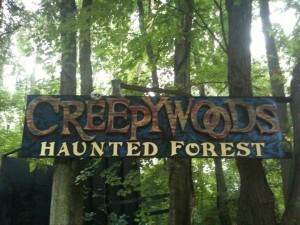 Here are three ways to get the jibblies before Halloween hits, if that's your thing. The Halloween Happening at the Anne Arundel fairgrounds is in its 22nd year offering a Haunted Barn and Hayride. Adults cost $13 to get into the volunteer organized event with proceeds going to improve the fairgrounds themselves. Hours are from 7-10 p.m. on Fridays and Saturdays; 7-9 p.m. on Sundays. For the opposite of the faint of heart there's Bennett's Curse in Jessup. It's a little more expensive at $25 base price on Thursday and Sunday and $30 on Friday and Saturday on either night you can drop an additional $10 for the "Speed Pass" option that skips the line. The 2011 Haunted Ghost Tour is in full swing and explores the infamous William Paca house. The tour lasts about an hour and a half. It leaves from 77 Main St. in downtown Annapolis at 7:30 and costs $20 per adult; kids 3-11 are $14.
This Saturday the Admiral Heights neighborhood will hold their annual Fall yard sale beginning at 9 a.m. The community is comprised of 625 homes so there will be plenty of treasures to dig for. It's located along Farragut Road at the Navy-Marine Corps Memorial Stadium, but is also accessible from Route 50 and West Street. Happy hunting!
For those with Bank of America mortgages that might be getting away from you, the bank has rented space at the Gaylord National Resort and Convention Center south of D.C. Thursday through Saturday beginning at 8 a.m. where people can meet face-to-face with retention specialists to review options, including files already in progress.
With the boats out of the way for another year Halloween is going to be free to take over as much of the town as people are willing to give to it. Looking ahead — it's a fairly large amount.
NEXT WEEK: Thrills! Chills! More spooky events!