Despite the precarious weather, Annapolis holds to its promise of entertainment for all. View the upcoming events below and choose the one (or more) that suit your needs for fun.
Annapolis Entertainment
With the Chesapeake Bay, United States Navy, and an exciting downtown, Annapolis has clearly defined what it means to entertain. This week, the beloved USNA Wind Ensemble performs for local music lovers at Kerr Center for the Arts in Severn, Maryland. The orchestra performance is held on Thursday, February 7, at 7 p.m. Find the venue at 109 Burns Crossing Road on the Severn Campus of Annapolis Christian School. If you would like more information, visit www.usna.edu/USNABand/events.htm or call 410-293-1262. The concert is free and open to all who would like to attend.
On the subject of big talent that comes to Annapolis, jazz violinist Aaron Weinstein holds a concert at Maryland Hall for the Creative Arts this Wednesday, February 6. The concert features Weinstein's live music with a fusion of films that showcase other talented tunes. See the concert at 7:30 p.m. Purchase your ticket for this show or the other shows at Maryland Hall described below on http://tickets.marylandhall.org.
Also at Maryland Hall, the cultural series "Bridges to the World Film Festival" kicks off this Thursday evening. This time around, a film from the Czech Republic will be shown, Citizen Havel. The film screenings (with English subtitles) at Maryland Hall continue every Thursday at 7 p.m. from Februrary 7 until March 7. Come before and stay after the film for an introduction that frames the film, and a discussion that hones in on significant parts of the film. Anyone can enjoy the screenings for free.
The last performance scheduled for this week at Maryland Hall is done by international performers, The Peking Acrobats. The traveling acrobats muster every ounce of strength, balance, and coordination possible to perform some of their stunts, like balancing on stacked chairs. The stunts are performed while the experts are suspended in the air, adding to the dare-devilish quality of the show. See the show at 7 p.m. on Thursday, February 7 for $30. Children ten and under cost $18.
Bay Theatre opens two new plays to the public this Friday, February 8, that will run until March 17. The first play, Sister Mary Ignatius Explains It All for You, centers around the devoted nun named Sister Mary. With her constant harping on students about abiding by the Catholic faith, several students coming back to seek light-hearted and hilarious revenge on Sister Mary was bound to occur. The second play, The Actor's Nightmare, is all about that awkward and frightening time on stage when the actor has to suddenly fill in for another, and forgets lines and cues, but pulls through in the end. These plays are performed one after the other. Find out more concerning tickets and seats on http://www.baytheatre.org.
The Colonial Players also introduce a new play this week, Trying. This witty and heartfelt performance centers on the relationship between a driven young woman and her boss, a harsh legal man. Find out if the two can negotiate a healthy relationship. Opening night is Friday, February 8. See more information on http://tickets.thecolonialplayers.org/.
Ram's Head welcomes R&B/gospel group Marilyn McCoo & Billy Davis Jr. on Wednesday, February 6. This husband and wife duo offers two performances, one at 6 and the last at 9 p.m. See the show for $65 per performance. Saturday, Chris Smither plays up the blues with a hint of folk in his show on Saturday, February 9. Smither begins at 8 p.m. The show costs $27.50 to see. Learn more about these show at http://tickets.ramsheadonstage.com.
The music at 49 West Coffeehouse is inspired by easygoing tunes and performed by locals. First up, it's another round of "Songwriter Series" with Alex Peters and Skribe at 7 p.m. The show costs $6. On Tuesday, Unified Jazz Ensemble performs from 8:30 to midnight for $6. Wednesday, Starr's Jazz Jam takes the show at 7 p.m. with bass, piano, and loads of enthusiasm. See the jazzy performance for $10. Thursday, Jeff Antoniuk & The Mars 4-Tet take jazz to another level at 8 p.m. for $10. Friday, Izzi Does It performs at 8 p.m. with keyboards, trumpets, and a flugelhorm for $8. Saturday, Dick Morgan provides the setting for date night with intimate jazz at 7 p.m. Experience the intimacy for $20. Sunday, the Swing Brothers take the stage at 2 p.m. with rockin' jazz for free. Before the Swing Brothers, Jonathan Stone sings at 10 a.m. for free, and after the Swing Brothers, Bigfoot performs elusive jazz at 7 p.m. for a $6 show. Learn more information and read on next week's shows here.
Annapolis History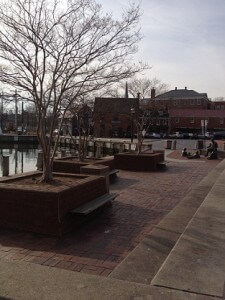 This weekend, the historical scene in town is all about the Frenchman Marquis de Lafayette. Friday, at Maryland Inn, the famous historical figure will entertain dinner guests with stories about wine, French cuisine, and the culture hundreds of years ago. Maryland Inn hosts a three-course meal and offers wines for tasting. Before dinner, there is a reception where stories will be retold. Tickets for the dinner, which spans from 7 to 9 p.m., cost $150 per person. Dinner and the reception, which goes from 6 to 9 p.m., costs $225 per person.
Saturday, the Frenchman is back with more stories to tell at Francis Scott Key Auditorium at St. John's College. The event allows you to chat with historian Mark Schneider about his performance as Marquis de Lafayette. This event goes from 4 to 5:30 p.m. with a $20 admission fee for most. Children under 17 can get in for $10.
Also on Saturday, in the dance room of the Francis Scott Key Auditorium, Mark Schneider is instructs a workshop on historical interpretation for the 18th century. Everything from posture to mannerisms will be covered. The workshop runs from 9:30 a.m. to 2 p.m. and includes a lunch and a ticket to the 4 p.m. show detailed above. Tickets cost $75. Learn more about these three historical happenings through http://www.annapolis.org.