Fall in Annapolis, Maryland is a beautiful time full of colors, crisp air, boat shows and more. Whether you're interested in getting out in nature to enjoy the stunning and peaceful bays, learning about the history of Annapolis, MD, going to a USNA football game or spending time in Downtown Annapolis, there is no shortage of Things to Do in Annapolis in October.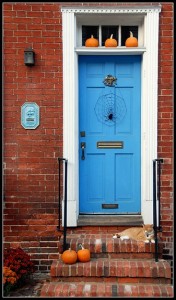 Annapolis Events in October
Oktoberfest takes place in West Annapolis, and is one of the most popular street fairs to attend to have a great time and celebrate German culture. Vendors sell authentic German food and German beer, and there is plenty of music, dancing and no shortage of activities for the whole family to enjoy.
Annapolis has been called the sailing capital of the U.S., and the Annapolis Boat Shows are famous for being two of the largest boat shows in the world. The United States Sailboat Show and the United States Powerboat Show both take place in-water at the City Dock, and showcase new and exciting developments in nautical engineering and marine technology.

USNA Sports in Annapolis in October
Score some tickets to see the United States Naval Academy's football team at the Jack Stephens Field of the Navy-Marine Corps Memorial Stadium. USNA football is a staple of Annapolis pride, and win or lose, attending the game is always an exciting way to spend the day.
Take a tour of the USNA, where officers of the U.S. Navy and Marine Corps train. Don't miss the newly-renovated chapel and the Annapolis Naval Academy Museum, where you can get a firsthand look at the famous Gallery of Ships and over 50,000 naval artifacts.

Getting Out in Annapolis
Rent a boat and launch out of the Annapolis waterfront for a day of fishing, or canoe to a peaceful spot for a picnic lunch surrounded by the beautiful colors of autumn leaves. If you're not the navigational type, try a two-hour cruise. Choosing one that leaves in the morning and serves breakfast is a great way to start the day. Instead of taking a regular taxi to reach your destinations, try a water taxi! They go virtually anywhere along the coast, and can get you to some of the best coastal restaurants in Maryland.
Downtown Annapolis
Annapolis shopping is fabulous at places like the Annapolis Mall and smaller stores like Diva Boutique, and they're right in reach of the best Annapolis hotels. The Annapolitan B&B is not far from historic Annapolis, and the Loews Annapolis Hotel is a beautiful, Regatta-themed place to stay. After shopping, stop in one of the excellent Annapolis Restaurants that serve fresh seafood and fill your plate with mouthwatering delicacies.
Annapolis in October offers events, sports, sights, shopping and fresh seafood. It's a fun and exciting place for the whole family.