Compost may not be the most appealing thing, and what's more, a career in composting is certainly less than desirable, but for veteran Justen Garrity, the dirt and waste called his name.
"I served five years of active duty in Iraq," Garrity starts, "But when I got back, I found it hard to find a job." Like most veterans, Garrity wanted to do something after he faithfully served the country but quickly learned employers shy away from hiring veterans. Garrity can laugh now that he went from "an award-winning army career to collecting unemployment checks." Lucky for him, compost showed no judgment and in fact, welcomed him and his mission to go green and establish his company, Veteran Compost.
At this point, you're probably wondering why compost? When I asked Justen this very question, he laughed and said "I was looking for green businesses and composting caught my eye."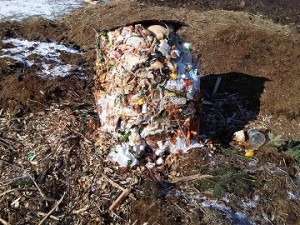 Compost can contain many ingredients–some with anything from egg shells to spent coffee grounds–but Garrity plugs into Annapolis resources more than most composters. "We collect food scraps from a few restaurants around Annapolis, like Harry Browne's and Lemongrass," Garrity says. From there, Garrity takes the leftovers to his farm and the composting process begins. Garrity makes the whole method seem simple: mix the food waste with wood chips, pump air into the mixture on timed intervals, and voila, compost! The process takes about eight weeks to complete. That means the food you didn't eat at Lemongrass may show up in your backyard thanks to Garrity! It truly is all a cycle.
Garrity's farm is outside of Annapolis, in Aberdeen, Maryland. Though he keeps the mounds of compost just outside the city, Garrity enjoys Annapolis. "It's one of the most perceptive areas," he says. In fact, thanks to the efforts of eco-minded groups like Green Drinks, Garrity has quite a following in Annapolis. "I feel like a celebrity when I go to places like Green Drinks," he says. "I'll go to other towns and people will be like, 'Wait, what do you do?'" he jokes.
Garrity is thankful for Veteran Compost and those who support it. "We're blessed to be the only facility in the state with a permit for food waste," he says. But it's not just the time Garrity spends on the farm unto which he's grateful. "Part of my day is hanging out with people in restaurants, and the other part is teaching people about soil," he says. Apparently, it's about getting down and dirty with education.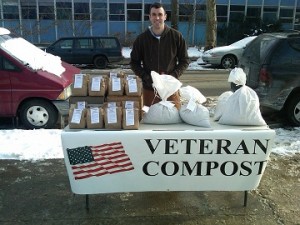 Veteran Compost is expanding too, thanks to the community support. They've added a few employees and are currently looking for interns. "We're also looking to open farms around the area," Garrity says, "We have one in Anne Arundel County we're hoping works out." In addition, Garrity hopes to add more food bins at area hotels. Essentially, he wants to expand his reach and in turn, expand the impact he makes on the environment by reusing, recycling, and reducing. This is one veteran who's still on a mission–a mission to promote and protect the Earth.
So, if you're looking for some compost, call a veteran! "I meet people in Annapolis and go there twice a week," Garrity says, "People call me and buy right off the truck." The farm's location is 328 Bush Chapel Road in Aberdeen, Maryland 21001. Pick up high quality compost there or even volunteer there. Call Garrity at 410-935-6404 or email info@veterancompost.com. Interested in more about Garrity and his career from "Combat to Compost"? Head to his site, www.veterancompost.com, or meet him for some worm-filled compost.