The state capital of Maryland, Annapolis has numerous Independence Day events scheduled on July 4th, 2011 for people of all ages and interests. Most events take place near the City Dock area, a popular destination along the Annapolis waterfront for boaters, bicyclists, sailors, and pedestrians. The City Dock is one of the best places to be for shopping, concerts, great Annapolis restaurants, and fireworks to cap off the 4th of July festivities.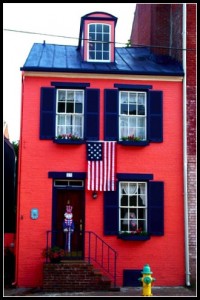 Annapolis Independence Day Parade starts at 6:30 pm., winding through the narrow streets of downtown Annapolis to its destination at the Market House. The City Dock will host a performance by the Annapolis Naval Academy Band, beginning at 8:00 pm. Promptly at 9:15 pm, fireworks will be launched from Farragut Field at the USNA. Main Street and the City Dock area are closed to automobiles so join the crowds and settle in the street to watch the show.

Things to Do in Annapolis MD
Annapolis, Maryland is the home of the United States Naval Academy (USNA), which allows tours year round. Guides will impart information about USNA, the life of midshipmen, Wright Brothers B-1 flyer, and the crypt of Revolutionary War naval hero John Paul Jones, who, by the way, was also a member of the Russian Navy and the Superintendent of the Naval Academy showed me a small sculpture – model – of a much larger one honoring our war hero that was to be displayed in Russia. Interesting fact, John Paul Jones was wielding a large RUSSIAN sword.

Tours of Historic Annapolis Maryland
Tours of flower gardens to colonial homes, history and art museums, guided and at your own pace, tours are available for curious sightseers. Tours are conducted on foot, bicycle, Segway, trolley, cruise boats, and carriage from sunrise to sunset. Contact the Visitor's Center in Annapolis for more complete information.
Annapolis Restaurants
Near Annapolis, Maryland is Cantler's Riverside Inn. This family owned and operated restaurant is located along Mill Creek where pedestrians, boaters, and tourists by bus and car will find the finest Maryland blue crabs, clams, oysters, shrimp, and fish. Cantler's is open 7 days a week, serving lunch and dinner 11 am. to 11 pm. Maryland Crabcakes are a tradition being spread globally via the efforts of the Maryland Blue Crab Express, an online supplier of fresh frozen crabcakes. They have been voted "Best Crab Cake" in 2009 and 2010 because of their attention to detail and freshness. If you would rather stay downtown, there are many restaurants to choose from. Luna Blu is on West Street and is excellent. The Breeze located inside the Loews Annapolis hotel is worth the walk. Crush, a wine bar, located just outside the Loews is a wonderful place to while away the afternoon.

Annapolis Shopping
Numerous shops, restaurants, and galleries fill the downtown Annapolis area, including specialty shops featuring antique furniture, books, candy and baked goods, and souvenirs. Within sight of Annapolis harbor restaurants, boutiques, and pubs abound giving you more than a taste of history. There are new and varied shopping opportunities just outside the City of Annapolis. The Westfield Annapolis Mall offers over 240 stores and restaurants to satisfy your shopping urges. The Annapolis Harbor Center and Annapolis Towne Centre both have additional stores, big and small, as well as varied restaurants to give you even more options. One of my favorites is the Lebanese Taverna in the Harbor Center, but if you are looking for good American fare for a July, try Adams Ribs.

Annapolis Hotels and B&Bs
Annapolis hotels provide a myriad of accommodation options for couples, families, and groups. The Loews Annapolis Hotel, the Westin Annapolis Hotel, and the O'Callaghan are all downtown options. The Marriott Waterfront Annapolis Hotel is, as the name implies, on the water in downtown Annapolis and is the only waterfront hotel option. For a less money and close proximity to shopping are the Springhill Suites Annapolis and the Best Western Annapolis hotel. Alternative lodging may be arranged with a one of the many local bed and breakfast innkeepers, even renting a duplex or whole house for your stay can be reserved by the day, week, and month. Annapolis Accommodations is the best place to look for whole house and long-term rentals.
No matter the time of year, there are always things to do in Annapolis. Annapolis events vary from historical to aesthetic, romance to war, with something for everyone, young and old. Next trip make Annapolis MD your destination.