There's an old, often contended belief that making a good first impression is of upmost importance. We can counter this statement in saying that personality and charisma trump appearance, and that is valid. Even still, appearance matters. Lucky for Annapolitan residents and visitors, downtown features chic shopping options for both men and women. Take some time to explore the shopping from Maryland Avenue to Main Street and put your best, fashionable shoe forward.
Women's Fashion
Tucked away on Maryland Avenue, Navette features lightly used women's clothing. The brands there are the likes of Anthropologie, J Jill, Madewell, and Michael Stars, but thanks to the consignment piece, Navette's items are much cheaper. Some of the items are vintage as well. Look for the red door at 88 Maryland Avenue to peruse Navette's offerings. Head to their site for more: www.shopnavette.com.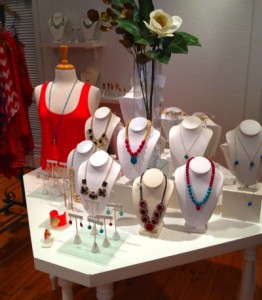 You know Lilac Bijoux if you are a woman who revels in international trends and a constant influx of new items. The store owned by two locals is located at 145 Main Street and started as a specialty jewelry store but now stocks maxi dresses, skirts, tunics, and purses. The items are hand-picked by the store owners who religiously watch trends in women's fashion. Presently, you'll find a selection of chevron patterns, bright summery colors, modern jewelry, and short dresses with bold patterns. The prices are of course relative, but range from about $12 to $70 for most pieces. Visit them in-store and/or online at www.lilacbijoux.com.
Hobo Bags, at 194 Green Street, is an hometown brand that's achieved big success. The flagship store is the one on Green Street, but the Hobo Bag brand can be found all over the United States and beyond. As you could imagine from the brand's name, Hobo Bags specializes in high-quality wallets, wristlets, tote bags, and everyday handbags. Nowadays, the store shows off the new collection of bags made of leather in fashionable shapes. There are shoulder bags, cross-over bags, and more in subdued tones, metallic shades, and some floral patterns. Bags are priced at $200 on average. Pay them a visit at the flagship store or shop online at www.hobobags.com.
Pink Crab, pictured at the very top, is the epitome of fun, flirty fashion for girls and women. As the name tells, the store is stocked with shades of pink polos, dresses, and shorts for every age. Don't be fooled though–there are plenty other colors inside too, like turquoise, green, white, and navy. Patterns are prevalent in the clothes there as they all belong to the much loved brand name Lily Pulitzer. Accessories like clutches, smart phone cases, belts, and notepads are also available at the store. Princes range from $15 to $70 on average. The Pink Crab is located at 16 Market Space and on the Web at www.thepinkcrab.com.
Brown Eyed Girl sits at the top of Main Street, parallel to the Maryland Inn. The store specializes in funky apparel meant for younger and older women alike. The store provides a range of patterns and colors in apparel, jewelry, accessories, and home wares. You'll even find local art there on occasion. Two local ladies own the store located at 234 Main Street–stop in soon! You'll also find Brown Eyed Girl on the Web at www.browneyedgirlannapolis.net.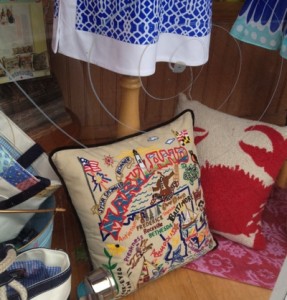 A family-owned boutique in the Annapolis region, Kokopelli features treasures for women interested in fashionable clothes, home decorations, outrageous gifts, jewelry, and brand-name purses. Among the numerous brands represented there, Kokopelli supplies Spartina bags, Troll Beads, Maggie London, La Femme, and much more. A trip to the store at 149 Main Street will allow for an exploration of Annapolis-made pottery, Vera Bradley products, cookbooks, and a collection of Chesapeake Bay inspired house wares, as the picture to the left shows. The prices greatly range, but the majority of products are priced around $20. Visit the Annapolis location or go to the site: www.kokopelli1.com.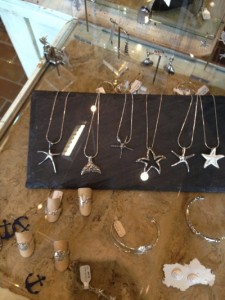 Going into Blanca Flor is like opening Pandora's Box to world of silver. The store at 34 Market Space features silver platters, dishes, collectables, and of course, jewelry. Blanca Flor provides a wealth of silver jewelry in the form of rings, necklaces, bracelets, and pendants. Inside the shop, there are large decorated mirrors, fancy wall mounts, and ornaments all for sale as well. The prices are fair (since the jewelry is real silver) at $30 on average. Go to www.blancaflorsilverjewelry.com to peruse the lovely offerings.
Men's Fashion
Though men do not have nearly as many chic shopping options as women do in downtown Annapolis, Laurance Clothing provides a much-needed haven for fashionable guys. The locally owned store has been serving the male community in Annapolis for decades and continues in the same tradition today. The brands fit within the nautical framework of the town: Peter Millar, Tommy Bahama, Cutter & Buck, Southern Tide, etc. Laurance Clothing provides belts, hats, watches, polos, ties, and dressy clothes. Prices average out to be $50 per piece. Head to the store or view the selection online at www.lauranceclothing.com.
Gender Neutral
Helly Hansen is the most Annapolitan store there could be, thanks to their inventory of sailing gear for men, women, and children. The internationally renowned store sits at 132 Main Street, between a few ice cream stores. Helly Hansen is known for high-quality, weather-resistant jackets, shirts, shoes, and sailing gear. Polos go for about $60, a guestimate that allows you to gauge the prices of other items. Look to www.hellyhansen.com to learn more and order online.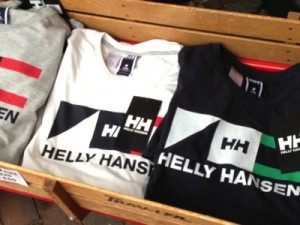 The embroidered dog items, great gifts, and Annapolis-inspired blanket make The Leader a chic shopping destination. The store also features artsy umbrellas, cards, men's clothing, women's clothing, and ties to suit every guy's style. The Leader stocks coasters with sassy sayings that are a rather great bonus to the store as well. You can see the chic items in the store at 167 Main Street or on the Internet at www.theleaderannapolis.com.
Regardless of your style, downtown Annapolis has chic shopping options ideal for you. Take the time to peruse these very Annapolitan anchors downtown.