We met the founder of an organization we've never heard of at a jewelry party about a month ago. She came to Annapolis to host an in-home jewelry party that showcased Grade A pearls sourced from the Philippines. All the jewelry was quite different: some multi-colored pearls fashioned to rings with gold wire, some long string necklaces with purely white pearls, some pearl drop earrings, and some triple-strand colorful pearl bracelets. We later found out these pearls are available online but also at the Navy Midshipmen Store at USNA. Even later in the night, we were enlightened that purchasing this extremely fairly priced pearl jewelry allows women in India, Cambodia, and the Philippines to feed their families, gain independence, and learn business skills. So what is this company that provides ultra classy pearls and helps women across the globe? It's called Pearls with Purpose, and you need to know about it.
Wendy Bird, founder of Pearls with Purpose, let's the pearls talk for themselves, so to speak. Even to the untrained, non-gemologist eye, the luster, color, and shape of the pearls proves them to be real and high quality. Bird, who is a certified gemologist, explains that when she took to pearls to an appraiser, he identified some worth an upwards of $200. "I didn't realize how good the pearls were!" she laughs.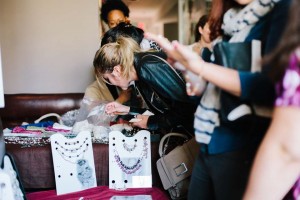 Pearls with Purpose started eleven years ago when Bird was enjoying her time as a stay-at-home mom of five kids, making jewelry as a hobby. She was looking for loose pearls to go into some jewelry and sent out an email to any address with "pearl" in it she could think of. By sheer fate, a woman from the Philippines responded with news of pearls and the idea that women in the Philippines were able to make jewelry as a means of income. Bird was enthusiastic about helping women and went through with the partnership. With that, Pearls with Purpose was born. It wouldn't be years later until Bird actually went to the Philippines to meet and train the women who made the jewelry sold here in the States. A few years after that, Pearls with Purpose grew to affect even more women in Cambodia and India.
Today, there are nearly 350 women working to earn incomes thanks to Pearls with Purpose. These women, who range in age from sixteen to early fifties, have been able to experience working in good conditions, create their own jewelry designs, learn about managing co-ops, earn an income, and boost their self-worth. In turn, Philippine, Indian, and Cambodian women have sent their children to school, fed their families, supported their sick husbands, and built homes. Women in the Philippines have incredibly been able to attend an eight-week business program offered by a university there. This program reinforces Bird's hope for these women: "We don't want these women to just be workers; we want them to aspire to be something else." Sporting a gorgeous pearl piece is truly a testament to the power of women.
So how does Pearls with Purpose function? Each of the three countries–India, Cambodia, and the Philippines–have women coordinators who run the respective co-ops. The handmade jewelry gets shipped to the States where Bird, her business partner, some administrative staff, and about sixteen board members distribute the jewelry across the States. Annapolis has its own board member–Claudia Romero Berth, who's pictured on the right next to Bird.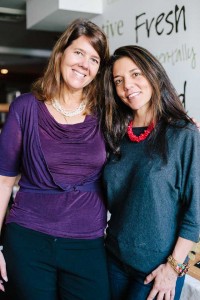 It hasn't all been easy, though. Bird recalls working with women in India who couldn't comprehend patterns or measure. "It was so frustrating," she recalls, "Because a five-year-old could understand these simple concepts!" To combat this challenge, Bird supplied the women with assorted gemstones and instructed them to make something that resembled their saris. The result? Uniquely handmade necklaces ideal for layering or wrapping in a double strand (pictured in feature image). The long version of this necklace goes for $60, which is an average price of the jewelry.
After launching her own business and working and training women internationally, Bird is still encouraged by the impoverished women, especially noted by the anecdote above: "It is really humbling
[to see] these women aren't looking for a hand-out; they want the tools to be independent."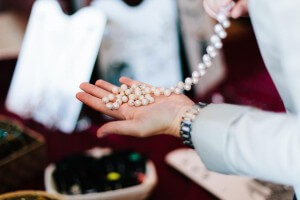 Pearls with Purpose has a strong online presence, simply because the company doesn't have a flagship store, but is spread more through word of mouth and relationships. Even still, Pearls with Purpose has a connection to Annapolis as navy and gold designs are on sale at the Navy Midshipmen Store. Bird also has a connection to Annapolis as her dad owns a printing company on West Street. Many of the designs mimic the nautical theme here in Annapolis and would certainly turn heads at Navy sporting events.
Access to these handmade designs comes from the Pearls with Purpose site, the midshipmen store, or hosting a party, like the one we went to. Romero Berth, the Annapolis board member can schedule an in-home jewelry party.
Contact Romero Berth to schedule a party at 443-924-8414.
Navy Midshipmen Store's site has more info as well.
It's true that pearls transcend time and trends, and we'd venture to say that Pearls with Purpose will be significant for a long time too.
All photography is courtesy of Besa Photography.